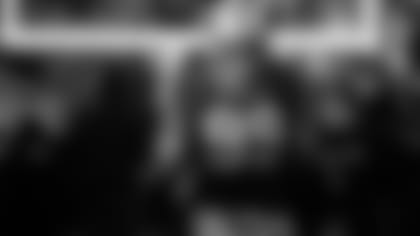 When you've won an award named after Ronnie Lott, you've done quite well for yourself.**
From walk-on to walking-over the Big Ten Conference, J.J. Watt's path to the 2011 NFL Draft is quite remarkable to say the least.
The 6-foot-5, 290-pound defensive end competed diligently throughout his college years to out-work more coveted recruits. The exertion paid off in the form of becoming the best defensive player on Wisconsin's Co-Big Ten Champion, Rose Bowl team.
But only recently has Watt enjoyed the pedestal he's on now. Watt entered the college football ranks virtually unknown at a school and position he would ultimately change.
As an all-state tight end and defensive end in high school, the 228-pound Watt felt like Central Michigan would be the place to harness his talent. As a freshman he played in all 14 games at tight end, catching eight passes for 77 yards. But at the end of the year, it didn't feel like the best opportunity for him to reach his goal of playing in the NFL.
That place would be closer to his hometown of Pewaukee, Wis.
"I felt going to Wisconsin was my best opportunity," Watt explained at the NFL Scouting Combine. "Thankfully, my parents supported my decision and here I am today because of it."
Around that time, Watt began to put on more weight and started tipping the scales at 250 pounds. He used the added size to make an impression on Wisconsin's scout team defensive line.
Watt would put on the majority of his current 290-pound frame during that redshirt year in 2008.  And the experience of working for a spot wasn't forgotten by Watt. He competed against the first-team offense with one goal in mind: earn a scholarship.
After making the financial sacrifice a year earlier, Watt started all 13 of Wisconsin's games at defensive end. He also finished second on the team with 15.5 tackles-for-loss.
Watt's redshirt junior year was even more impressive than his rise to the top of the Badgers depth chart.
In 2010, he led his team in tackles-for-loss, sacks, quarterback hurries, forced fumbles and blocked kicks.
"It was very rewarding," Watt said. "We went from 7-6 in 2008 to Rose Bowl, 11-2, in 2010. It was unbelievable."
Watt also spoke highly of the coaching staff and players that helped him put together a remarkable career. Watt was a consensus first-team All-Big Ten performer and the recipient of Ronnie Lott's IMPACT Award, given to the nation's best player with high character off the field.
The IMPACT Award is an acronym for integrity, maturity, performance, academics, community and tenacity. Watt displayed all those characteristics and more.
If you follow him on Twitter, chances are you already know that as evidence by his recent posts of spending quality time with his grandmother and great-grandmother.
"I believe it's a great tool to use as players, for us to go directly to the fans so we can get our exact quotes out there," he explained.
Watt likes to use the social media tool to do more than share opinions; he uses it to shed light on his motivations with fans, friends and family.
"There's a lot of people out there who wish they could play in the NFL, who wish they could have the opportunities that we have," Watt said. "I want to share it with as many people as possible, because I understand that not everybody gets this chance.
"I want to be able to share this experience so as many people can share in the joy that I am."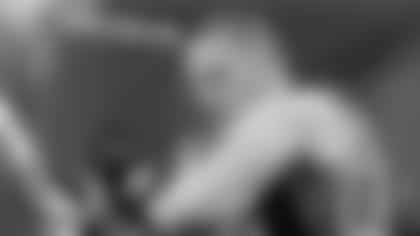 Watt's signature tweets include the hash tag "#DBWH." It stands for: Dream big, work hard.
That's exactly what he's done his whole life.
Effort is Watt's calling card as a football player and a person.
"I'm always going to be 110 miles per hour on the field because I feel that's what the game deserves," he said. "I don't want to disrespect the game by taking a play off. That's just not how I play the game."
Watt couldn't afford to take plays off, competition was evident throughout the Wisconsin program. Practice is where he sharpened his abilities best. Watt routinely faced several all-conference linemen which helped him raise his game to where he's now considered as a first-round talent.
Practice battles helped his versatility too. The former tight end can play multiple positions on the line, but envisions himself as a defensive end.
Watt showed the necessary athleticism and up-field burst to play on the outside after running a 4.76, 40-yard dash at the combine. He played some 3-4 defense in college, but his main role was to slide inside as an interior pass rusher on passing downs.
Lately however, Watt has spent time learning the nuances of the 3-4 scheme in case he's picked by a team that favors that alignment.
But no matter where he goes, Watt feels confident he's the perfect piece to fit in a NFL defensive puzzle.
"I'm a guy who studies film a lot," he said. "I'm a guy who's always in the coaches' offices learning."
It all goes back to his effort in overcoming earlier obstacles in his playing career.
"I wouldn't be who I am today, I wouldn't have the character that I have, I wouldn't have the work ethic and the drive that I have if I didn't go through those experiences. So I feel like I am today because of those experiences."
Dreaming big and working hard is all he knows.