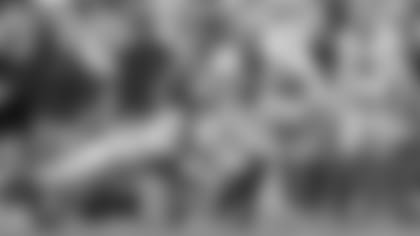 Need production from a wide receiver? Look no further than acquiring the services of Georgia's amazing jumper.**Gloves and happiness. That's what a soul-inspiring Georgia wideout named Green needs to be at his best. A quarterback and several passes thrown in his direction helps too.
After three highlight-filled seasons in the SEC, Adriel Jeremiah Green, better known as "A.J." figures to be one of the first names or initials called at the 2011 NFL Draft.
The 6-foot-4, 211-pound receiver known for his spectacular catches has plenty to offer to whichever team selects him.
Green's best attributes were seen regularly during the college football season and were put on display again at the Scouting Combine in Indianapolis. While some utilize the event as their attention-grabbing moment; others point to game tape for best representation of their talent.
Green falls under the latter category, though his field drills also demonstrated remarkable ability.
Most people will get caught up on the impressive combine results of Alabama's Julio Jones. Green's weren't bad by any means (4.48, 40-yard dash, 10'6'' broad jump and 18 reps at the bench press), but the top two receiving prospects will be compared in everything they do.
It's the nature of the competitive circumstance.
Jones excelled better than Green in the track-like environment. But you can make the argument that Green thrived more in game competition. That's what enabled his 23 touchdown catches in three seasons at Georgia.
There's no animosity between the two however, only friendship. Both are preparing for the draft at the same training facility in Arizona.
"We don't get caught up in the hype," Green explained. "We're just two guys trying to be the best."
But he quickly added, "I think I'm the best. I'm going to do what I can to be the No. 1 receiver and I feel like Julio's going to do his best… It's not going to mess with our friendship. Whatever happens, happens."
Green's second-team All-SEC selection in 2010 was well-deserved (Jones made first-team), but it could have been an even better season. A four-game suspension for selling a game-worn jersey derailed Green's chance of putting up bigger numbers as a junior. Still, he caught 57 passes for 848 yards and nine touchdowns. Furthermore, Green caught 50 passes or more each season at Georgia.
His background in making ridiculous catches dates back to elementary school. Green took part in his school's juggling team in the second grade. The wideout also began riding a unicycle in the fourth grade.
Chances are those skills won't be needed in the NFL (maybe for a rookie talent show), but Green clearly has the athleticism to be a top-flight receiver.
It's one thing for wideouts padding statistics against lesser competition, but that wasn't the case with Green's best college performances. He set career highs with nine catches and 164 receiving yards against Auburn, the best team in the nation.
More notable than physical talent, Green said his mentality makes him fit to be one of the game's best perimeter players.
"I'm not going to settle for being an average receiver," he said. "I take that to the heart to be one of the best.
"I want to be the No. 1 receiver out of school and be mentioned with the best."
Bold words from an even bolder talent.
Offensive coordinators are surely salivating over the athleticism Green showcased. He comes from a pro-style offense and has played with a NFL-caliber quarterback in Matthew Stafford of the Detroit Lions.
The two unquestionably paired together nicely in Athens, but will they reunite? That's tough to say when 12 other teams pick before Detroit. But one thing is for sure, Green appreciated the time he spent working with Stafford as a true freshman.
"He taught me a lot of stuff and just helped me take my game to the next level."
From the day he stepped on campus, Green was a productive college receiver. He hopes it's the same way when he gets to the NFL, no matter if he's the first receiver picked.
"I don't worry about any of that," he said. "I'm going to do my part to try and be the best."
If that holds true, one team will certainly want to stay together with Green for a long time.