The NFL's No. 10 overall defense is surging. And coming off a dominant performance last week against Oakland, the 49ers are primed to build on it. But it won't be easy traveling on the road against a Carolina Panthers team with dangerous playmakers, rested off a bye week.
Offensively, the 49ers have talked about attacking the entire football field since Mike Johnson took over as coordinator.
On the flipside, defensive coordinator Greg Manusky preaches an attacking style as well.
It will be important to utilize that mindset this Sunday against a Panthers team that features a top-notch running back tandem as the centerpiece of its offense.
Carolina's passing game, however, is a different story.
Matt Moore returns to the starting lineup at quarterback after being replaced for two weeks due to ineffective play, but the 49ers know the four-year veteran can be successful in the league.
"I remember last year, he lit it up," said linebacker Takeo Spikes, recalling Moore's 4-1 record as a starter to close out 2009. "I understand what he can do, and the player that he is and the reason he's starting this week. That's something we've been talking about around here."
Beyond Moore, there's been plenty of talk concerning the Panthers running attack led by DeAngelo Williams (68 carries for 317 yards) and Jonathan Stewart (35 carries for 119 yards).
"We'll have our work cut out for us, but we'll be ready," linebacker Joe Staley said.
"It gets back to playing team defense. We have to have 110-percent, all-out effort, and when you get there, get there hard. It's going to take team defense to stop those guys."
In the same way the 49ers will need to attack Moore, who enters Sunday with a 33.3 quarterback rating, the defense will have to be aggressive in its run defense.
Allowing the Panthers to dictate the pace of the game through the ground is the last thing the 49ers want to allow.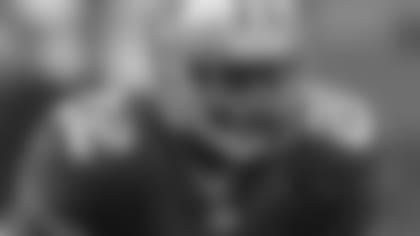 "They come in and they produce," cornerback Nate Clements said of Williams and Stewart. "Everyone has to focus on holding the water, do your responsibility.
"If you're not sound, they can pop one. We definitely have to hold our gaps and attack. I think that's going to be key, attack the runner instead of sitting back and letting them come to you."
The 49ers have been stout against the run in recent weeks after struggling against the Kansas City Chiefs in Week 3. Although the Panthers duo presents similar challenges than the Chiefs duo of Thomas Jones and Jamaal Charles, the 49ers are well aware of the importance of limiting their production.
Manusky is fully conscious of the talent both runners posses too, and said his defense will have to be aware of which runner is in the backfield on every down.
"I think you've got to know as a player what type of person's in the backfield and who's back there because (Williams) is more of a physical, downhill player and the (Stewart) is more of an outside player."
If Carolina's running game falters, the defense can dial up even more pressure on Moore, who has thrown six interceptions in 59 pass attempts on the year.
Moore will be aided significantly though by the return of Smith, who missed the Panthers last game against Chicago due to a high ankle sprain. Smith has practiced every day this week, a good sing considering he has made the only two touchdown receptions by a Carolina wideout in 2010.
"I know a guy of that caliber loves to compete, but when I go out there, I love to compete too. It's definitely going to be a challenge," said Clements, who hasn't practiced this week because of his own ankle injury, but is tied for the team lead with two interceptions.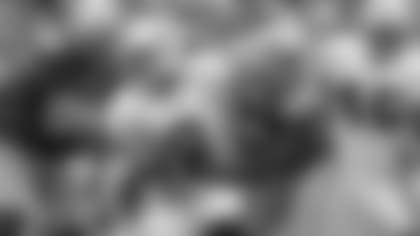 Putting a consistent pass rush on Moore will be important as well. The Panthers have allowed 17 sacks in five games this season, and the 49ers have stepped things up in the pass rush department as the season has worn on.
The 49ers pass rush by committee, which has seven different players with a sack, would be well served to put Carolina in third-and-long situations.
If that's the case, Manusky likes the chances of his guys succeeding.
"I think we're filtering guys in and out… and it's good that they're getting some good pressures on the quarterback at times. But for the most part, the guys are rolling."
But most important of all for the defense is leaving Carolina with a win. It's as simple as that.
"All of us are in it together, everybody wants to win," said linebacker Parys Haralson, who is tied for the team lead with 3.0 sacks. "This team is tight, all of us hang out together and all of us know each other. It's about not wanting to let the next man down."