49ers football great Roger Craig and former 49ers owner Eddie DeBartolo, Jr. were inducted into the Bay Area Sports Hall of Fame on Monday evening at the BAHOF's 29th Annual Enshrinement Banquet, along with former NFL players Ray Guy and Burl Toler and record-breaking swimmer Rick DeMont.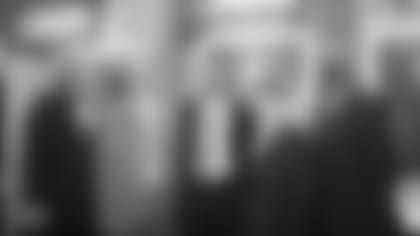 Roger Craig, a strong and determined runner and a superb pass receiver, became in 1985 the first player in NFL history to surpass 1,000 yards both rushing and receiving in a single season. In his 11 seasons with the 49ers, he rushed for 8199 yards and 56 touchdowns. He was twice an All-Pro and a four-time participant in the Pro Bowl.
Craig and his three fellow deserving on-field athletes were elected by a panel of 70 Bay Area journalists and broadcasters.
In the past, only athletes and coaches have been eligible for induction, but BASHOF's Board of Directors added a new category to include off-field candidates who have made "an extraordinary impact on the sports history of the Bay Area". DeBartolo is the first person to be so honored and was elected by a special panel of 22 community leaders, past enshrinees, broadcasters and sports editors.
The 49ers won five Super Bowls in the 12 years of DeBartolo's ownership, a record yet unmatched in the National Football League. Under Bill Walsh, the coach DeBartolo first hired in 1979, the 49ers revolutionized football with the so-called "West Coast Offense", which featured such now legendary players are Joe Montana, Jerry Rice, Steve Young, Ronnie Lott, and new Enshrinee Roger Craig. DeBartolo has also been heavily involved in charitable causes in the Bay Area and across the country…and recognized with national awards from organizations such as the St. Jude Children's Research Hospital, the Salvation Army, and the CYO.
49ers team owner Jed York, general manager Scot McCloughan, head coach Mike Nolan, defensive coordinator Greg Manusky and alumni quarterback Steve Bono were among several 49ers representatives who attended the event in supprot of Craig and DeBartolo.