The Carolina Panthers are working through a five-game losing slump while the 49ers enter Sunday's game on an emotional high after an overtime victory over their NFC West rivals in Arizona. Here's a look at this Sunday's matchup from the 49ers coordinators.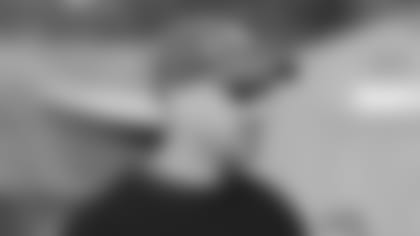 49ers Offense/Panthers Defense, Offensive Coordinator Jim Hostler
**For the first time all year the 49ers got their running game going, and even better, they were able to stick with it as Frank Gore had his first 100-yard rushing day of the season.
Running the ball will require some muscle this Sunday in Carolina against a defensive line featuring three former Pro Bowlers in Kris Jenkins, Julius Peppers, and Mike Rucker, and a large body tackle in Maake Kemoeatu.
"They have one of the best front fours in the league," said Jim Hostler. "Their big inside guys take up space, they allow their linebackers to run. You have to be able to handle the inside guys in the run game and the outside guys in the passing game because you have to edge guys who can really affect the game."
The Panthers only have 10 sacks on the year, but the 49ers offensive line would be amiss to assume this is an opponent that lacks a pass rush.
"They've played from behind. When teams are up on them, they are running the football so they don't have as many opportunities for sacks. That's a little bit of what is going on, but if they are up or playing an even game they can rush the passer as well as anyone in the league."
At linebacker, the Panthers Jonathan Beason has been a rookie phenom, similar to the 49ers own Joe Staley. Beason leads the team with 99 tackles according to coaching stats with Thomas Davis and Na'il Diggs playing on either side of the rookie
"All three are really fast, athletic guys, space players. That's the kind of backers you like when you have a big front – you want a group that can play inside out and cover well and those guys can do that."
Former Seattle Seahawks cornerback Ken Lucas joined Carolina in 2006 and is one of their best cover players. Lucas has a pair of interceptions and is complimented at the other corner spot by veteran Chris Gamble. Gamble is expected to return this week after missing last week's game with a broken thumb.
In his absence Richard Marshall had a heck of a game, tying for the team lead with 12 tackles on top of one pass defensed.
"Their corners are excellent and both are good match up guys, and then the young kid came in last week and filled in well for them."
At safety, Carolina picked up Chris Harris via trade from Chicago over the off-season with Deke Cooper, a former 49ers and Jaguars player also starting deep. The pair has teamed up to play a role in 11 of the Panthers' 20 takeaways, including four of the club's eight interceptions. Both are also in the top three on the team in tackles.
"The safeties fit well in the scheme. They don't ask them to match up one on one a whole lot but they get down there and are physical in the run game and they do what they are asked in the passing game. They play with their eyes, and are free guys running around so they are going to get tips, hits and interceptions because they are watching the quarterback."
A large part of the 49ers success on offense this Sunday lies in the veteran hands of Trent Dilfer, who has posted strong performances in his last two starts.
"Trent has gotten better each week with the repetition he's gotten and the extra work. The more work you get, the more things slow down and you get used to the guys around you and you start to execute. I think his experience is really taking over now."
Speaking of experience, the 49ers need to continue on in the balanced attack they displayed in Arizona, and the key to that is easy to talk about, harder to achieve.
"We say it every single week, but we've got to have success on first downs, convert on third downs so that we have more opportunities to be on the field. The more chances you get out there, the more likely you are to stick with your game plan and find balance."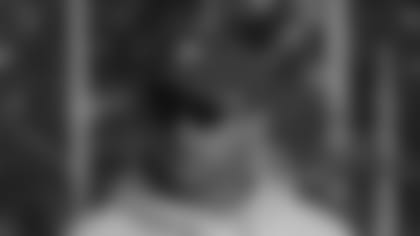 49ers Defense/Panthers Offense, Defensive Coordinator Greg Manusky
**First things first for the 49ers defense this week is stopping the Carolina run game. A 43-yard rushing outing last week in New Orleans is not a typical day for a Panthers offense that is predicated off their ground attack.
Paving the way for the run game is a veteran offensive line with their most experienced player a ten-year veteran in left guard Mike Wahle.
"They are a tough bunch of guys," said Greg Manusky. "They've got some mean and nasty to them. They are big, they are stout and they do a good job in the running game with two talented guys who can get big yards."
DeShaun Foster carries the bulk of the load, although DeAngelo Williams will get his opportunities in the ball game. Foster has a 182 carries for 670 yards, a 3.7 average and two touchdowns, while Williams holds the team's longest play from scrimmage with a 75 yard carry to pad his stats with a 4.9 yards per carry average.
"Foster is a tough player, he can really hit the hole fast and get through and to the second level. Williams is more of a quicker guy, and he can take it to the edge a little bit more."
To really get a grip on the Panthers five game losing streak, one only needs to look at their inconsistency on quarterback. Since the loss of Pro Bowler Jake Delhomme, the team has looked to David Carr, Vinny Testaverde and Matt Moore.
If healthy, Testaverde will get the starting nod on Sunday, although there's always the potential of seeing Carr or Moore. Testaverde delivers a better throw, but Carr does have some mobility and can be chaotic when he opts to scramble.
"Vinny is an old timer and he's still a good quarterback. He's accurate, he can throw the ball, and he always trains real hard. He doesn't have the scramble ability that he once had, but he can still deliver the ball and he's accurate. You have got to get after him. If Carr is in there, we know he's a talented guy but he has struggled. He can move well in the pocket and he can step up and deliver and you do have to be aware of him breaking out of there and scrambling."
Surprisingly given the inconsistency at quarterback, Pro Bowl wide receiver Steve Smith has still managed to build a respectable stat sheet with 51 catches for 637 yards and six touchdowns.
"He's a talented player. He's got all the moves, all the talent. He's got good hands, good quickness, good speed, and he's a good route runner. You get the ball in his hands, and he makes things happen."
Another player factoring into the Panthers passing game is tight end Jeremy King. King is second on the team with receptions with 365 yards and is tied for fifth in the HFC in receptions.
"He gets open, he's a good blocker and he makes some plays. He has some skills and some good ability. He's been a productive guy for them, they throw it to him, and he makes plays."
Drew Carter is also a vertical threat for Carolina with the highest yards per catch average at 14.8. The former Ohio State receiver enjoyed a career-long 49-yard reception a few weeks ago against the Packers. The Panthers also have two former USC receivers on their roster who play an active role in Keary Colbert and rookie Dwayne Jarrett. Jarrett is doubtful with a knee injury this week, but the 49ers banged up secondary will see a good dose of Colbert, who is third on the team in receptions.
"They present some challenges for us and I'm sure they know we're a little beat up and they'll try to test us, but that's okay. Our guys have to take their opportunity to play and do something with it."
Manuksy would like to see another strong showing when it comes to taking the ball away. Although the defense allowed over 500 yards in total offense last week, they came away with four turnovers to sway the game in San Francisco's favor.
"We've got players who can knock balls out and who can pick off passes and that's something that we stress every day in practice. They went out last week and got it done, and we need that again."
49ers/Panther Special Teams, Special Teams Coach Al Everest
**Kcker John Kasay is the only player still on the team from the Panthers inaugural season. He's currently tied for 14th place on the NFL's all-time scoring list with 1,470 career points, and is 15 of 19 field goals and all 17 of his extra points for a team-leading 65 points.
He's a good kicker, a solid kicker who has been in the league a very long time," said Al Everest. "He's made a lot of clutch kicks for them and he's a left footer like Joe Nedney."
Sixth-year veteran Jason Baker was chosen as an alternate to the Pro Bowl the last two seasons, but the Panthers punter isn't hitting those numbers in '07. He's got a 38.2 net and a 43.6 yard average.
"He's had some very good seasons, but he has struggled a little bit lately. That can happen to all of them at times."
Ryne Robinson serves as the team's punt returner and has fielded the majority of kickoff returns, although DeAngelo Williams got into the action last week against New Orleans with four kickoffs for 69 yards and a long of 19.
"Robinson is a little bit like Steve Breaston last week, a wide receiver with good acceleration and you've got to take care of him. He's not as hard to get down as maybe Breaston was, but you've got to take care of him. DeAngelo is a guy you've got to tackle. He's a smaller guy but he's explosive and you have to make sure you keep him contained and get him down."
The 49ers received a spark from their special teams last week with two long returns by Michael Lewis, including a 51-yarder that led to a field goal.
"We were really pleased with what we got in our returns, and that's something we've been looking to break open. We've just got to stick with it and keep trying to crack one for a score of our own."
San Francisco nearly got one on a fake punt when Michael Robinson took the snap and took off running. Robinson had a chance to take it all the way but as he turned the corner, his foot just went out of bounds.
In coverage for Carolina, cornerback Richard Marshall, a second-year player out of Fresno State is the team's top returning special teams player for 2007 after amassing 14 tackles in his rookie campaign. He's already notched 14 tackles on teams, including 11 solo this season, as well as recovering a fumble on a punt return by the Titans.
"He's solid for them, but they've got a lot of quality players playing for him. They carry seven linebackers on their roster and four of them are usually working on special teams so they are very well equipped for playing teams."
Look for Julius Peppers to also chip in on special teams. The defensive end blocked his sixth kick of his career earlier this year against New Orleans when he denied a 20-yard field goal by Olindo Mare before adding his seventh block when he got his hands on a field goal against the Packers.
Everest's special teams roster continued to shift this week with two of his key players in Marcus Hudson and Shawntae Spencer out with injuries.
"We'll have Dashon Goldson and Tarell Brown up this week and so it'll be their turn for us out there to show what they can contribute. They've worked hard and we'll see what they can do to help us out."