It didn't take long for Ted Ginn Jr. to demonstrate what the 49ers saw out of him when he was acquired via trade earlier in the offseason.
Throughout OTAs and minicamps, teammates and coaches were encouraged at the sight of the speedster running past defensive backs and creating passing lanes for other players. Ginn's big-play potential left everyone wanting to see more.
Those wishes were granted at the first of two training camp practices at 49ers headquarters on Tuesday, as the 5-foot-11, 180-pound wideout made several impressive catches. None being more spectacular than Ginn's 59-yard touchdown catch from quarterback Alex Smith during the final team period.
Ginn's speedy presence figures to bode well for the development of the entire 49ers offense. In particular, Tuesday's aerial display was proof that bigger and better things are on the horizon for the passing game.
"You always want to go out and hit your shots. That's for every team," Ginn pointed out after the two-hour workout. "Our goal here is when we get an opportunity to make big plays – let's make them. You can only get that done through practicing."
Ginn has already demonstrated tremendous speed when he gets behind defenders like he did with Tuesday's first of two lengthy touchdown receptions. Afterwards, offensive coordinator Jimmy Raye called Ginn's morning practice, "outstanding."
"His presence on the field demands that you have to make a decision about how many you want to commit to the run, from a coverage standpoint," Raye noted. "We certainly think that he gives us something defensively that you have to figure out when he's on the field."
For Ginn, playing fast has never been a problem. It's a matter of learning Raye's system which will allow his natural speed to show itself.
In order to get better acquainted with the offense, specifically the route tree of Raye's offense, Ginn ran routes with Smith throughout the offseason. The two would play catch for an hour at team headquarters and then lift weights routinely as they prepared for camp.
"We did a lot of work," Ginn said. "Just everything, whatever we didn't do (the day before), we tried to do (that day)."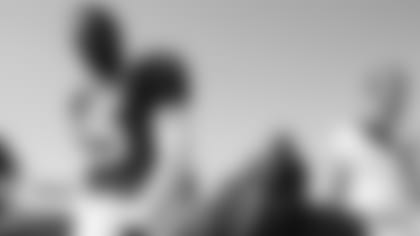 Ginn said he wasn't only running deep routes with Smith, but the entire route tree. On Tuesday, Ginn showcased his understanding of those routes by catching several intermediate and deep passes.
But even with early success, Ginn isn't ready to pat himself on the back.
"We had a great day, made some great passes, but we're not there yet. We're going to continue to keep playing and it should come together."
Another aspect of Ginn's progress can be traced back to his willingness to compete against the 49ers defensive backs. Only when he's facing a fellow former Ohio State Buckeye like Nate Clements, Ginn is even more up for the challenge.
"With Nate, we're from Ohio so it's a little different. But we've got some older (cornerbacks) who've been in the league for a bit and have played the position, so going against them from time-to-time has been great."
Likewise, Clements and the other defensive backs see plenty of value in their matchups against Ginn.
"He can stretch opposing defenses out there on the field and open a lot of windows for other guys as well as make plays for himself," Clements said. "Just to have that speed can open up a lot of things.
"It's definitely good work to go up against a guy with that type of speed. It challenges you as a defensive back to stay technique-sound."
Notes and QuotesSecond-year fullback Brit Miller has opened many eyes in camp with solid blocking and pass-catching. The undrafted college linebacker said he owes a lot of his development to starting fullback Moran Norris. "He's teaching me every day," Miller said.  "He's the definition of a pro."
But as Raye explained, there's more to the drill than pure desire. "You have to understand that it is a teaching tool. It's not a courage drill or who's tougher than who. We're trying to teach stance, angles and leverage. The benefit of it is that you have a chance in a controlled environment to fundamentally teach flat back and hat speed, knee bend, and keeping your knee bent in advance of your angle and leverage points."
With David Baas out of action due to a concussion, rookie first-round pick Mike Iupati joined the first-team offense for a second consecutive practice. Raye was pleased with what he saw from Iupati as well as fellow first rounder Anthony Davis. "They both have a physical presence about them. They're athletic with big bodies. I don't see any reason why they won't continue to ascend as they get more familiar with the language and the system of football that we're playing."
In typical training camp fashion, secondary coach Johnnie Lynn lost his voice four practices in. But that didn't stop the boisterous coach from shouting out instructions in the morning.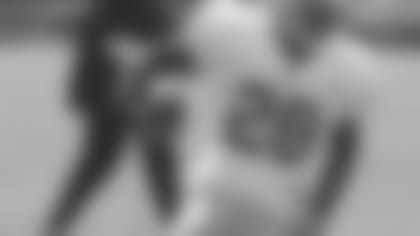 Curtis Taylor earned play-of-the-practice honors with an impressive leaping interception on Smith's deep post intended for Michael Crabtree.
Joe Staley got the best of Vernon Davis in 7-on-7 work when the Pro Bowl linebacker forced a fumble out of the Pro Bowl tight end's hands.
Shawntae Spencer picked up his first interception of camp, when he stepped in front of David Carr's pass intended for Dominique Zeigler, who ran a skinny post.
The veteran courtesy was once again given to safety Michael Lewis, linebacker Takeo Spikes and outside linebacker Travis LaBoy. Tackle Joe Staley missed the workout due to illness and guard Baas remains out of action due to a concussion.