QUARTERBACKS (4) New: J.T. O'Sullivan (6th Year), Kyle Wright (Rookie) Returners: Shaun Hill (7th Year), Alex Smith (4th Year) Departed: Trent Dilfer, Drew Olson, Chris Weinke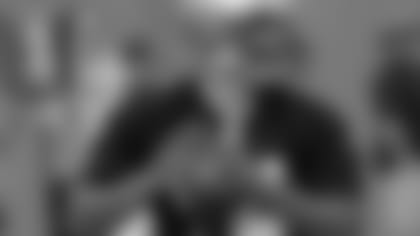 San Francisco believes that each of its top three quarterbacks is capable of taking on the role of the club's starter with Alex Smith, Shaun Hill and J.T. O'Sullivan all competing for the job in training camp. Smith and Hill took most of the snaps during mini-camp and organized team activities to learn the new offense being installed by Mike Martz, while Sullivan had already learned the offense while with Martz in Detroit last season. All three are expected to battle for the starting job during training camp.
"The quarterbacks are responding well to the competition," said head coach Mike Nolan. "All of them are competing well, and I think that's going to make us a better football team. The competition should help give us the best quarterback we can possibly have, but all three need to be ready because it's hard to go through an NFL season with just one quarterback."
"All three are competent and capable of being starters in this league," added Martz. "They all have their strengths but the common denominator is that they're all intelligent guys, all tough guys and all very accurate. Those are the qualities that we're looking for in a quarterback."
Smith has been in the role for much of his first three seasons with the team (2005-07). He had his best campaign in 2006 when he established career-highs in every category by completing 257-of-442 passes for 2,890 yards and 16 touchdowns. He showed his durability that same season when he became the first player in team history to take every snap from scrimmage.
Smith is 7-5 in his last 12 starts when healthy and had the 49ers off to a 2-1 mark in 2007 before injuring his shoulder against Seattle in the fourth game of the campaign. Smith would not return to full health during the remainder of the season before sitting out the final six games due to the injury, but has returned to full action this past off-season.
"Alex is physically very tough, which was evident during that 2006 season when he took all of the snaps," offered Nolan. "It was unfortunate last year that he was hurt because as a healthy quarterback he has done a good job for us."
Hill took advantage of a golden opportunity during a three-game stretch late in 2007 after Smith and backup Trent Dilfer had suffered season-ending injuries. Hill completed 54-of-79 passes for 501 yards and five touchdown passes, and made the first two starts of his career before his season was cut short a week early when he suffered injuries in a Week l6 game versus Tampa Bay.
O'Sullivan is a new addition to the mix after being picked up as a free agent from Detroit, where he spent the 2007 campaign playing in Martz' system.
Kyle Wright is competing for a roster spot after being claimed and awarded off waivers in early July. Wright originally signed with the Minnesota Vikings as an undrafted rookie free agent this April.