OFFENSIVE LINE (14) New: G Brian De La Puente (Rookie), T Chilo Rachal (Rookie),  T Alan Reuber (2nd Year), G/T Barry Sims (10th Year), G Jeb Terry (4th Year), T Joe Toldeo (3rd Year), C Cody Wallace (Rookie)Returners: G David Baas (4th Year), T Damane Duckett (4th Year), C Eric Heitmann (7th Year), T Jonas Jennings (8th Year), T/G Adam Snyder (4th Year), T Joe Staley (2nd Year), G Tony Wragge (4th Year) Departed: G Larry Allen, T Kwame Harris, G Justin Smiley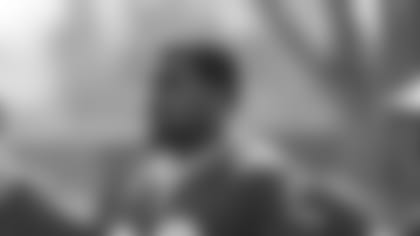 The importance of the offensive line has been a focus of Nolan and McCloughan since their arrival in 2005. The 49ers feel they have improved the offensive line and are excited about the starting group. Center Eric Heitmann will be joined by Adam Snyder at left guard, David Baas at right guard, Joe Staley at left tackle and Jonas Jennings at right tackle.
Nolan knows the importance of keeping this core group together.
"The continuity from this point forward is instrumental in us being successful on the offensive line," Nolan commented.
Baas, Heitmann, Jennings and Snyder have all been part of an offensive line that made excellent progress in 2005 and 2006. Staley joined the group in 2007 and responded with an outstanding rookie season.
"The offensive line is the heart and soul of any football team," offered Martz. "If you have a really good offensive line it allows you to do what you want."
Although San Francisco will have many of the same faces in 2008, several players will shuffle positions around Heitmann at center.
"We've done this to get our best five offensive linemen on the field at the same time," explained Nolan. "In a perfect world, they all stay put at their positions, and I would like to think that's what we have created right now."
Heitmann, who is in his seventh year out of Stanford, was named by his fellow players as the Bobb McKittrick Award winner given to the team's top offensive lineman each of the past two seasons. He played every snap as the starting center in 2007 and was also the Ed Block Courage Award recipient after his courageous return from a broken left leg suffered late in the 2006 campaign.
Baas started all eight of the club's contests in the second half of 2007 at right guard after last year's starter Justin Smiley went down with a shoulder injury and will begin the year as the starter at that spot in 2008.
Jennings, Snyder and Staley are all moving positions from last season.
Jennings, who has proven to be an excellent player when healthy, will move from left tackle to right tackle. He played some at right tackle as a rookie with Buffalo in 2001, but has spent the majority of his career at left tackle.
Snyder is a versatile lineman that has experience at both tackle and guard during his three seasons with San Francisco. He started 11 games at left tackle in 2007 after Jennings was placed on injured reserve with an ankle injury.
Staley is slated to move over to the left tackle position after a sensational campaign a year ago at right tackle when he became the first rookie in club history to start all 16 games.
"The reason I think Joe will be a good left tackle is his mental toughness," commented Nolan. "Last year, we traded up to get Joe in the draft, and it was probably one of the best moves we've ever made."
Tony Wragge is another versatile offensive lineman that can play any position on the line. Wragge saw action in five games as a reserve for the 49ers last season, while converted defensive lineman Damane Duckett spent most of the 2007 campaign as a practice squad player learning his new position.
San Francisco used the draft again in 2008 to add depth by selecting tackle Chilo Rachal (USC) and center Cody Wallace (Texas A&M) in the second and fourth rounds, respectively. Rachal played guard in college but has been converted to tackle with the 49ers.
The 49ers also signed 10th-year NFL veteran Barry Sims and three players with NFL experience – Alan Reuber, Jeb Terry and Joe Toledo – to boost its depth. Undrafted free agent Brian De La Puente (California) will also battle for a roster spot.