While there were plenty of strikes, spares, gutter balls and laughs all around, the pins were knocked down with a greater purpose during Thursday's 49ers Bowl for Youth event at Sea Bowl in Pacifica.
The multi-faceted event -- a partnership between the San Francisco 49ers Foundation, the Bayview Hunters Point YMCA and the Simon Youth Foundation -- raised funds to support at-risk youth in the Bay Area.
Over 250 guests, sponsors and VIPs were treated to an evening of fun and friendly competition as 49ers legends took their athletic skills to the lanes. Participants teamed up with 49ers alumni, including Dwight Clark, Jesse Sapolu, Keena Turner, Steve Bono, Guy McIntyre, Dennis Brown, Dave Fiore, Allan Kennedy, J.J. Stokes, Greg Clark, Jamie Williams, Eason Ramson, Tim Anderson, and Ron Heller. Various members of the 49ers coaching staff – including Bobby Engram and Jim Leavitt, ownership and front office were also on hand to join in the fun.
As 49ers Co-Owner and 49ers Foundation Board Member John York explained, the goal of the evening was for guests to not only have fun with various members of the 49ers organization, but more importantly, to raise funds and awareness for at-risk youth.
"There are plenty of opportunities to see the 49ers, whether it's the players, coaches or staff on TV, but there are not very many opportunities to really reach out and touch the team," York said. "So with these events, we're raising money to help people throughout the Bay Area and keep kids 'Safe, on Track and in School,' and in turn they get an opportunity to get to know the organization, the players and the coaches on a personal level.
The two beneficiaries of the event, Simon Youth Foundation and the Bayview Hunters Point YMCA support the Foundation's mission on the front lines – helping youth in need.  We are excited to partner with Simon for the first time and are honored to be able to continue to support the YMCA, as we have done for nearly 20 years."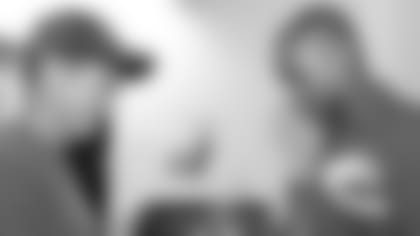 "It's great to be able to support the 49ers Foundation and their efforts and also to get to know the alumni who are here; this is for a great cause," 49ers offensive assistant Bobby Engram said. "The youth is our future and they have so many things to deal with, such as peer pressure and challenges at school. Anything that we can do to help them out. I think is a good thing."
The evening kicked off with a pre-event VIP reception where guests enjoyed wine tasting hosted by Papapietro Perry Winery and Three Monkeys Wine, hors d'oeuvres, and photo opportunities with 49ers alumni and Gold Rush Cheerleaders
Fun-filled activities also included an exclusive silent auction with bidding on priceless experiences and unique items, including a number of items offered by event co-host, The Great Mall of Milpitas, a Simon Property. The "Pop for a Prize" feature allowed guests to purchase balloons with prize tickets inside them, including 20 opportunities to win $25 Simon Mall gift certificates and 50 opportunities to win a 49ers Pro Bowl laser inscribed football and a grand prize of a laptop and printer from sponsor HP, the official technology partner of the 49ers.
The "49 Boxes" feature was also a big hit, with guests able to purchase wrapped boxes with the chance to win a $500 Chevron with Techron gas gift card, a 49ers VIP game day experience for four, and one of 47 other coveted prizes.
As the evening rolled on, all in attendance were wowed by the amazing trick-shot demonstration by PBA Bowler Tony Reyes. Reyes bowled two balls at once, knocked down pins bumped over from another lane, then finished with a spectacular strike under a chair in the middle of the lane, occupied by 49ers team photographer Terrell Lloyd.
Emceed by KTVU's Joe Fonzi, host of 49ers Total Access, the highlight of the evening, however, was of course the bowling tournament, with competitors vying for the title of "Ten Pin MVP." Each team consisted of one 49ers VIP and five bowlers. The tournament lasted just under two hours and the winners were determined by the best game average out of two hotly-contested yet enjoyable games of bowling.
Former 49ers tackle Dave Fiore and his teammates Dustin, Senli, James, Maher and Shawn won the competition with an average score of 148.
"I play maybe once a year so I was very fortunate to be on a team with a few guys who were very good at bowling," Fiore said of the victory. "This is a great event because it's a very easy way to get a large group of people together to have fun bowling. You don't have to be on the PBA Tour; it's just about having a great time and raising money for a great cause."
While Fiore's may have taken the honors for the most impressive frames, every alumnus and guest received not only the chance to mingle, but an opportunity to contribute to raise awareness and support for the youth of the Bay Area.
"I have a dual role here tonight as an alumnus and as an employee and principal of the Bayview Hunters Point YMCA, working with the at-risk teens," former 49ers tight end and head of the CARE program at the Bayview Hunters Point YMCA, Eason Ramson, said. "I have two schools at the Y where we help teens get reengaged to achieve their goal of getting a diploma. For me, it's great to be here with guys I played with and had camaraderie with over the years. This is huge; the youth in our program know the 49ers are big backers and it speaks volumes to their commitment to helping the kids turn their lives around."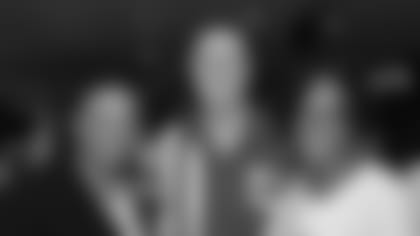 After the awards ceremony, the evening concluded with remarks from Brandi Young of the Simon Youth Foundation, Gina Fromer, Executive Director of the Bayview Hunters Point YMCA, John York and Joanne Pasternack, Executive Director of the 49ers Foundation.
"I want to thank everybody for letting us be a part of this evening, it's been a very special moment for our foundation and a very special night," Young said. "In the three hours that we've been together tonight, more than 300 students would have dropped out (of school); 29 every second. We are doing a great job for youth who are dropping out, turning them around and giving them hope, and it's because of the partnerships that we have and working with the 49ers."
The 49ers Foundation would like to thank the Bayview Hunters Point YMCA and the Simon Youth Foundation for their outstanding efforts in partnering for this great cause. A very big THANK YOU to all the event's sponsors: Blue Coat Systems Inc., Lufkin Advisors, LLC, Recology, Sports Basement, AT&T, BlackRock, Deloitte, the San Francisco Giants, Husic Vineyards, Pacific Waterfront Partners, LLC, Medallion Landscape Management, Inc., Nixon Peabody Attorneys at Law, Patty Lee, the Radiate Group, the San Francisco Police Officers Association, Patti Lee, Robert Fischbach and family, Northwestern Mutual Life,  SportsMark/Radiate Group, California Wireless/Sprint, Sporters, Andrew, Priority Architectural Graphics, Tom's Metal Specialists, The Great Mall Mipitas, Papapietro Perry Winery, Three Monkeys Wine and HP, the official technology partner of the 49ers, and Bud Light, the official beer partner of the 49ers.
A special thank you to Sea Bowl for hosting such a successful event and to San Francisco San Francisco Police Chief Greg Suhr for his attendance and support and to Pacifica Police Department and the SFPD Cadets, and event co-chairs, Juliana Choy Sommer and Ahtossa Fullerton and the event planning committee for the important roles they played in ensuring the success of the evening.
And finally, a very big THANK YOU to all the 49ers alumni in attendance, the Gold Rush Cheerleaders, PBA competitor Tony Reyes, as well as 49ers Total Access host and KTVU sports reporter Joe Fonzi for his outstanding efforts emceeing the evening's festivities.  49ers Alumni VIP Lane Hosts included Dwight Clark, Keena Turner, Jesse Sapolu, Dave Fiore, Allan Kennedy, Guy McIntyre, Dennis Brown, JJ Stokes, Greg Clark, Jamie Williams, Steve Bono, Ron Heller, and Eason Ramson.  49ers Coaching Staff VIP Lane Hosts included Bobby Engram and Jim Leavitt.  49ers Ownership and Executives also served as VIP Lane Hosts including Jed York, John York, Jenna York, Mara York, and Paraag Marathe. Additional VIP Lane Hosts included Gold Rush Cheerleaders Erica, Rachel, Elizabeth and Mariah, team photographer and former professional bowler, Terrell Lloyd and Herman Turner, father of Keena Turner.  It truly was a team effort!
The San Francisco 49ers Foundation is the non-profit community funding extension of the San Francisco 49ers. Now in its 19th year, the 49ers Foundation supports development programs for underserved youth that keep them "Safe, on Track and in School." A significant portion of the foundation's funding goes toward family violence prevention programs and activities that teach youth leadership and respect. Over the past seven years, the Foundation has donated $10 million to local non-profit organizations.
Bayview Hunters Point YMCA has provided family-centered, culturally sensitive supportive services for the past 14 years, serving thousands of participants each year. Today, in addition to the sports and fitness activities found at most YMCAs, the center offers after school programs for children and teens, fights truancy through the Center for Academic Reentry and Empowerment Center, supports community well being by providing mobile fitness and healthy cooking workshops, and much more. The majority of programs are offered free of charge and, for those with a cost, the YMCA provides over $125,000 in scholarships.
*Simon Youth Foundation (SYF) provides for educational opportunities, career development, and life skills that transform the lives of at-risk youth throughout the United States. SYF believes that at-risk students can and will graduate if provided a supportive, educational environment. SYF works with local public school districts to establish Education Resource Centers (ERCs), and provides post-secondary scholarships to ERC graduates and other high school seniors who might not otherwise be able to pursue higher education.
*