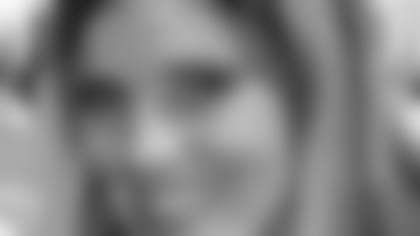 49ers.com writer Chrissy Mauck is one of a few official bloggers over on 49ersfaithful.net. Make sure to check out our social networking site, and in the meantime, here's a few updates from Friday's first day of camp.**
Players made their way out to the field around 8:25 this morning, for an 8:50AM start to the first practice of camp.
All players reported on Thursday, but a few players not working this morning include David Baas, Aubrayo Franklin and Joe Staley.
Baas and Franklin begin camp on the Physically Unable to Perform list (PUP). Baas is still recovering from surgery to repair his torn pectoral. Franklin is resting a leg injury.
Staley is on Non-Football Injury due to a foot infection.
Players can come off the PUP and Non-Football Injury lists as soon as they pass their physicals.
QB Alex Smith took the first snap during the team period. Nolan indicated that Shaun Hill would go first this afternoon.