The San Francisco 49ers opened their Levi's® Stadium locker room doors on Tuesday morning. Here's what we came away with...*
1. Center Daniel Kilgore, who tore the ACL in his left knee in Week 7, was seen with a cast rolling out of the locker room when we entered.
3. Tight end Garrett Celek gathered a few reporters around his locker. Of the four players with a 21-day window to practice starting Tuesday, he has the best chance to participate fully.
There was a replay of Saturday's USC-Cal football game on the TVs above the locker stalls of rookie center Marcus Martin and second-year offensive lineman Joe Looney. Coincidence? Martin went to USC, and Looney's younger brother, defensive tackle James Looney, recently transferred to Cal.
Every player had a 49ers Museum T-shirt hanging in their locker, as vice president of football affairs Keena Turner made sure that everyone got one.
Safety Eric Reid said that defensive coordinator Vic Fangio appears less "nervous" to put Reid on an island this season compared to last.
Reid was complimentary of former LSU teammate and New York Giants wideout Odell Beckham Jr. "I personally believe that he will be the next big-name receiver in this league; he can do it all," Reid said. After the cameras turned off, Reid told reporters, "I told these guys to draft him."
Here is the pair celebrating as college teammates at LSU.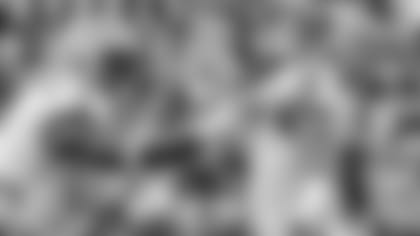 While rookie linebacker Chris Borland is getting a lot of love for his past three starts, it's easy to forget that fellow inside 'backer Michael Wilhoite is actually the one wearing the green dot on his helmet. This means that Wilhoite, not Borland, receives the calls from linebackers coach Jim Leavitt before each play and relays it to his 10 teammates on the field. 
Retired running back Marcus Lattimore's locker stall has been emptied, and his name plate has been removed. In case you missed it, here is Lattimore's career timeline.