The 49ers went back-to-back with offensive line picks in the seventh round of the 2011 NFL Draft. With the No. 239 overall selection, the team chose Montana State guard Mike Person.
Person started all 42 games along the offensive line for the Bobcats. He earned first-team All-Big Sky Conference honors in 2010, starting all 12 games and helping lead MSU to a Big Sky Con-ference Championship and the FCS Playoffs. Person lined up as MSU's starting left tackle the last two seasons, but is listed by the 49ers as a guard.
For more on Person, read his conference call with local reporters:On switching positions tackle positions in 2010:"Our coaches just felt like a switch would help me out for just this reason, to get drafted. We got a new offensive coordinator and he liked the better guy being on the left side, so they made the switch and I ran with it."
On whether he has any experience at guard:"The only experience I've had was during scout team my freshman year, but I feel like I have the ability to play all five positions."
On whether the 49ers have talked to him about a specific position:"Yes, they said a center-guard type guy, and I'm excited to play those two positions."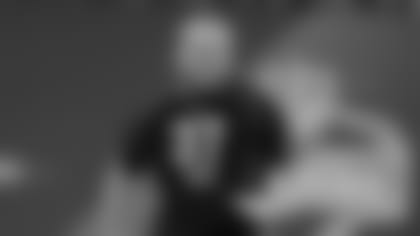 On whether he had any visits with the 49ers:**"(49ers offensive line coach) Coach (Mike) Solari came out a couple weeks ago and he worked me out. We met for about two hours and he worked me out for an hour. We had a really nice meeting."
On whether he thought he might not be drafted by the 49ers after the selection of G Daniel Kilgore:"I was kind of thinking that, but you have to keep an open mind and thankfully, they ended up pulling the trigger on me."
On what it means to be the first Montana State player drafted in quite some time:"It means a lot. It's a proud fan base and I just don't want to let those guys down. It means a lot for my family and everybody involved."
On where he is right now:"I'm in Billings, MT. I have a banquet tonight for an award, so I watched this in a hotel room."
On what the award is:"It's the Little Sullivan Award. It's basically the Montana Amateur Athlete of the Year."
On whether he won the award:"I find out tonight."
On being drafted helps:"Yes, it does. The way I see it, if I don't win that, at least I've got this."
On whether he has a personal preference with the right versus the left side:"No, I don't. I've played left and right my entire life dating back to high school, but I'm comfortable on both sides for sure."
On whether he's been an offensive lineman since high school:"Yes, I have."
On whether he goes by Mike:"Yes, I do."