Undetected heart problems are the number one killer of young athletes today. Last Friday, Cardiologists from the Stanford University School of Medicine challenged the 49ers to a pushup contest to help raise money for research and help find a cure for hypertrophic cardiomyopathy, a genetic heart condition that causes thickening of the heart muscle and can lead to sudden death. All proceeds from the event go towards the Stanford Hypertrophic Cardiomyopathy Center.
"Hypertrophic cardiomyopathy is the most common familial heart condition, and it affects one out of every 500 people," said Euan Ashley, MD, director of the center. "Although medicines and surgery can help with symptoms, we have no treatment for the underlying genetic disorder."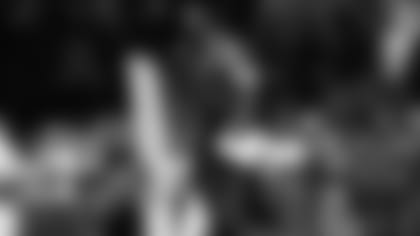 Cardiologists were asked to sign up, raise money for the cause, and participate in a pushup contest on the day of the event to test their strength against the 49ers very own Strength Coach Mark Uyeyuma.
The event was emceed by 49ers great Keena Turner and consisted of multiple heats of six between the doctors and a finale with Uyeyuma on stage solo showing his strength. 49ers Gold Rush Cheerleaders even joined in taking part in one of the heats to help fight for the cure.
Despite Uyeyuma's perfect form and impressive pushup number of 84 in a row, he was beat out by one of the Stanford Cardiologists who totaled 113 pushups without stopping.
San Francisco 49ers safety Michael Lewis and linebacker Parys Haralson were also on hand to help support the cause playing the role of official counters for the pushups.
Following the contest, the group put the fun aside and discussed the real issue at hand, fighting hypertrophic cadiomyopathy.
Lewis knows heart disease all too well as he was unexpectedly diagnosed with atrial fibrillation as a freshman in college. Being a part of this event to continue research on heart disease is very important to him.
"I'm excited to be a part of this fundraising event for cardiac research," said Lewis. "I have a heart condition called atrial fibrillation, and it's important to me to have research continued on all types of heart ailments. This event will also hopefully help to open people's eyes to the issue of heart problems in general so people can better understand how to handle heart problems and still live a healthy life."
Lewis was able to speak to the audience about his heart problem at the event and encouraged everyone to continue to get their heart checked out. He also mentioned that even if you have a heart disease, you can still live a successful life and urged everything to continue to exercise and live their life normally.
The pushup event raised over $10,000 to go towards research for hypertrophic cardiomyopathy.
Following the event, Lewis, Haralson, Uyeyuma, the Gold Rush Cheerleaders and 49ers team doctors, Dr. Garza and head athletic trainer Jeff Ferguson, headed inside the Stanford Medical Center to the Cardiac Care Unit to visit with children with heart problems.
The group first conducted bedside visits to those who were not able to leave their rooms, signing autographs, taking pictures, and just helping to put a smile on their faces and hopefully lift up the spirits of the children fighting for a cure.
Following the room visits, everyone gathered in the children's play room where they colored, took additional pictures and just spent time with the children.