On Tuesday, October 21, 2008, the San Francisco 49ers partnered with Career Closet, a San Jose based volunteer organization that provides business attire and career counseling to disadvantaged women. 49ers nose tackle Atiyyah Ellison, players and coaches wives including Kim Singletary, Johnnie Nathan, Marianne Hoener, Connie Sullivan, Laurie Manusky, Melissa Clements, Emily Heitmann, Jessica Ellison, Rachel Lee, Ashley Roman, and Brigette Banta-Cain helped provide domestic violence survivors with the gift of self-respect and confidence as they embarked on new career paths.
The players' and coaches' wives served as personal shoppers, assisting five local Bay Area women who visited Career Closet to help them restart their life, providing support and guidance into their new careers.
Cornerback Nate Clements' wife, Melissa discussed the 49ers involvement in the project, and its subsequent rewards.
"It is amazing the type of set up they have here. They have clothes for interviews; they provide women with work clothes for a week, shoes, accessories, and undergarments, in addition to their interview suit. It is really, really nice. We came in, helped sort clothes, assisted in dressing people; doing anything we could to help out," said Clements. "The things they have been through are things that tear you down in one way or another, and to come out of here with new stuff, not completely new, but new to them, and have them feeling good, it means the world to them and it makes us feel good too."
Throughout the day, 49ers volunteers took turns assisting the five women being fitted, helping them find an interview suit that fit their style, as well as a full week's worth of clothes so they can be prepared for their next step into having a career and life of their own. . All of the women attending the event have benefitted from programming offered through Support Network for Battered Women (SNBW) based in Sunnyvale. SNBW works toward the elimination of domestic violence in Santa Clara County and serves over 9,000 clients a year.
Ellison and the remainder of the volunteers who were not being personal shoppers, spent time sorting clothes donations collected through internal drives at the San Francisco 49ers headquarters and local software and services company, Intuit Inc.
Most of the women who enter Career Closet throughout the year come from all types of backgrounds, and unfortunately, usually abusive ones. Some women are living in shelters where they had to leave all of their belongings to get to a safe place away from their abuser.
The Executive Director of the organization, Jean Cecil, can relate to the women who enter this safe haven as she was abused growing up, and struggled to get to the successful place she is now.
"I was sexually abused by my father since I was a baby, which caused me all kinds of personality issues, acting out issues; I've been married three times. Now though, I'm so in love with my husband and I love my job. But it was a long journey getting here," said Cecil. "My story really is no different than a lot of the women who come here. I was determined to succeed and support myself and I believe a lot of the women we serve are the same way; they just aren't quite sure how to do it. That's why we are here. All we need to do is help them put their shoulders back, put their heads up, and not be ashamed. And no matter what you've done or where you've come from, it doesn't matter here."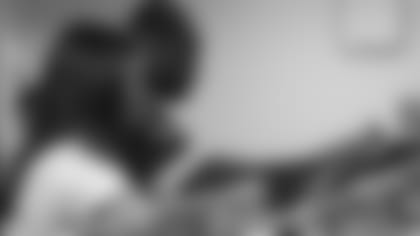 The experience gained from Career Closet can be life changing to some women. One client, Trisha Strauss, has two children, and was a victim of domestic violence. In March, she realized she didn't want her daughters being raised in domestic violence thinking it was ok to be treated this way and finally had enough. Since she left her abuser, she started going back to school, her oldest daughter is now getting straight A's, and she's recently started a new job. Even on her way down the right path, Trisha still struggled, as the emotional affects of physical abuse can take years to overcome. She went through a tough depression and gained a significant amount of weight as a result. Trisha then turned to Career Closet to help her find clothes that would fit her for her new career.
"It was very emotional for me at the beginning. I went through a really bad depression and this is the biggest I've ever been. This was very, very hard for me at first, but it's getting easier. Everyone here is great, Emily (Heitmann) is great helping me today. I'm very excited to be here."
Emily, wife of 49er center Eric Heitmann, spent the entire time helping Trisha find outfits she felt comfortable and confident in to help her continue to build the self-confidence she needs to give her family and herself the life they deserve.
After all five women had interview suits, clothes for a full week, and shoes and accessories to match, the day concluded with a surprise donation from the San Francisco 49ers Foundation of $5,000 to Career Closet in addition to flowers and gift bags with 49ers merchandise and See's Candies inside for the women.