Team owner John York's passion for delectable food, first-rate wine, football and helping Bay Area youth all came together this past weekend at the Resort at Squaw Creek for the 9th Annual Winter & Wine Fest, hosted by and for the 49ers Foundation.
"The 49ers are here with their primary mission which is always to win football games," said York. "We go out every Sunday to take the field and to win and our objective is to bring another Super Bowl to the Bay Area. But we have 340 other days where we want to be the best business partners we can be with all the businesses and sponsors that we have here as well as the best community citizens. Through our community work we recognize the 49ers Foundation as our philanthropic arm and our mission is to keep kids safe on track and in school."
San Francisco 49ers team President Jed York, Head Coach Mike Singletary, General Manager Scot McCloughan, Chief Operating Officer Andy Dolich, Defensive Coordinator Greg Manusky, Offensive Coordinator Jimmy Raye, players Shaun Hill, Manny Lawson, Barry Sims, Joe Staley, Adam Snyder, Delanie Walker, Tony Wragge and alumni Keena Turner, Guy McIntyre, Dan Bunz, Eric Wright and Gary Plummer, who emceed the weekend's events, all attended the three day festivities and helped raise money for Bay Area youth.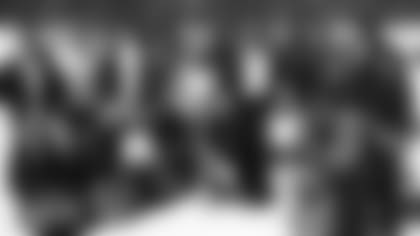 Events throughout the weekend included the famous Celebrity Ski Race where amateur skiers are given the opportunity to team up with Olympic skiers and race for glory. This year, Olympians Greg Jones and Kristin Krone, led their team to victory beating out fellow Olympians Tamara McKinney, Jeff Hamilton, Kirstin Clark and Jonna Mendes.
This year's event also included new activities including morning yoga sessions with 49ers long snapper Brian Jennings and a skate-a-long with Olympian Peggy Fleming.
Jennings' yoga class each morning was filled with roughly 25 people a day and Fleming had over 50 join her for the skate-a-long. When asked why Fleming was excited to be a part of the event, she said helping the youth that the event benefits was the most important.
"It's wonderful to be here helping the 49ers and the 49ers Foundation," said Fleming. "They help so many kids stay on the right track and that's the most important thing we can do in life – raise kids with good values. I take my hat off to the 49ers for doing things like that because it's definitely important."
Guests were also treated with a Chalk Talk featuring all the players and coaches attending the weekend who led the hour long discussion to breakdown film, discuss offensive and defensive formations, and gave the audience a chance to see the game of football through their eyes.
"I learned a lot of things," said Chalk Talk audience member Norm Bouton. "It was really the communication between the offensive linemen. The demo that Brian Jennings did about long snapping and I'll tell you, it's a great thrill to be in the same room as Mike Singletary. It was great."
In addition, the weekend featured evening wine tasting receptions with some of Napa and Sonoma Valley's most exclusive wineries, and the 49ers Foundation extended invitations to Mark Estee of Moody's Bistro & Lounge in Truckee and Jason C. Friendy of the Resort at Squaw Creek. Both cooks provided cooking demonstrations during the wine tasting and silent auction receptions for the guests.
When asked what made John Jordan from Jordan Winery decide to pour for charity at the weekend's event, he noted the shared mission with the Foundation.
"Well certainly the phone call from Dr. York didn't hurt," said Jordan. "But probably most importantly is all of the good work that the 49ers Foundation does in the community. The values of the 49ers and the 49ers organization are consistent with the values of Jordan and so it's our pleasure to bring what we have in the glass so to speak to support the 49ers Foundation."
The 49ers also treated guests with first-class entertainment by artist and performer David Garibaldi who painted images of Barack Obama, Mohammad Ali, Audrey Hepburn and Joe Montana on Friday and The English Beat performed on Saturday night following dinner and live auctions.
On Friday night, linebacker Manny Lawson stepped up and helped emcee Gary Plummer get the bidding going by competing with Plummer to have the guest with the highest bid throughout the entire live auction.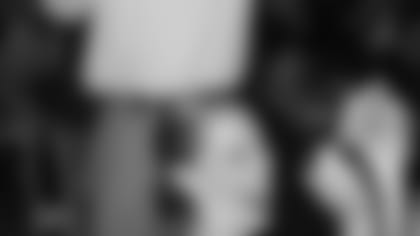 On Saturday night, tackle Joe Staley teamed up with Gary Plummer to auction off a night of karaoke with Staley and his friends which ended up selling for $4,000.
"The live auction is always a great event; it raises a lot of money," said Staley. "I was just trying to get the crowd excited because normally an auction featuring myself doing karaoke would normally not be that great you know? But I wanted to get everyone excited about it and let everybody know we're going to have a good time. I made three promises to them: I said, 'A, we're going to have a good time. B, I'm going to make you laugh and C, I'm going to sing and I'm going to sing any song they want.' We got it going and we got it up to $4,000. I don't want to brag, but a night out with me - $4,000 - I was very flattered."
Saturday also featured a 49ers Boxes event which gave 49 guests the opportunity to buy a 49ers Box for $100 and the chance for lucky participants to win a gold Cartier necklace, a $1500 Chevron gas card or additional Chevron gas cards worth various amounts. When the unveiling began, Coach Greg Manusky stood up and acted as if he won the $1500 gas card but when in reality he only had a $10 Chevron card.
Throughout both nights, there were roughly 10 live auctions given away donated by various members of the audience and other supporters of the 49ers Foundation which helped to raise over $225,000 from the silent and live auctions and the 49ers Boxes fundraiser.
Throughout the weekend, the 49ers Foundation raised over $280,000 to go towards helping youth in the Bay Area stay safe, on track and in school.
The 49ers Foundation would like to extend a big THANK YOU to their supporting sponsors which include Presenting Sponsor Thomson Reuters; Gold Sponsors Avenir Restaurant Group, Chevron, Maui Jim Sunglasses, Resort at Squaw Creek, and Visa; Silver Sponsors include Anheuser-Busch, Dreyfus Corporation, Franklin Templeton Investments, RazorGator, Samsung, Sharp Business Systems, and World Events Group; Bronze Sponsors include Cachematrix, Frank Crystal & Company and Young & Rubicam.
They would also like to thank the product donations from Anheuser-Busch, Avenir Restaurant Group, Blackhawk Plastic Surgery of California, Cartier, Chevron, CLEAR, The Coca-Cola Company, E&J Gallo Winery, Karbon, Kraft Foods, Maui Jim Sunglasses, New Amsterdam, Samsung, and Sportsmark.
Last but not least, a big THANK YOU to the vintners that poured throughout the weekend including Ahnfeldt Wines, Bell Wine Cellars, Bennett Lane Winery, Brochelle Vineyards, Elizabeth Spencer Wines, Ferarri-Carano Vineyards and Winery, Fleming Jenkins Vineyards & Winery, Groth Vineyards and Winery, Jordan Winery, Kosta Browne Winery, Marston Family Vineyard, Melka Wines, Pahlmeyer, Papapietro Perry Winery, Pride Mountain Vineyards, Robert Foley Vineyards, Schramsberg, and Spring Mountain Vineyard.