General Manager Scot McCloughan would have been happy with the signing of his three unrestricted free agents in defensive end Justin Smith, linebacker Dontarrious Thomas and quarterback J.T. O'Sullivan, but then along came several other unexpected players who fell in his lap.
"From my standpoint we accomplished more than I thought we could in free agency," said McCloughan. "From the standpoint of not just the unrestricted guys we signed, but there were great guys that got cut by teams that I'm very excited to get."
The three players – Isaac Bruce, DeShaun Foster and Allen Rossum – all became available in the days leading into the start of the free agency period, and McCloughan made quick work of landing them in San Francisco.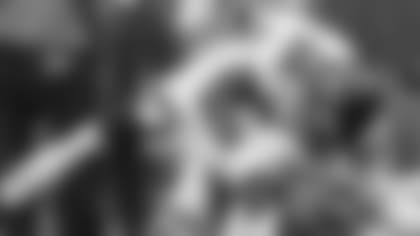 McCloughan expects LB Dontarrious Thomas to push for a starting role.
Although McCloughan said the team is pretty much done with their browsing, he won't hesitate to move if other players of that caliber do become available.
"If all of a sudden there is another DeShaun Foster or Allen Rossum or Isaac Bruce come across the line, we're going to sign them in a heart beat for the price that we think is right because all we're doing is making our team better," said McCloughan. "It's getting us depth, it's getting us good football players. So hopefully we're not done. If someone gets cut or there's a good football player that we think can come help us out then we're going to sign him in a heart beat."
McCloughan indicated that both Bruce and Rossum are at the top of the depth chart right now at receiver and as a returner, while Foster gives the 49ers a proven backup behind Frank Gore at running back.
Of the three unrestricted free agents, Smith is the only one inked in starter although McCloughan expects Thomas to push both Jeff Ulbrich and Brandon Moore for the starting spot at the Ted linebacker position.
Said McCloughan, "he will come in fighting for a starting spot and if not, he'll be a good backup at the Ted and outside linebacker spot and a really good special teams player."
While the 49ers have made some strides in free agency, they've also lost some of their depth at the offensive line with Miami's signing of guard Justin Smiley and the Raiders signing of tackle Kwame Harris.
Fortunately, McCloughan believes that the upcoming draft has more depth at the offensive line than any other position, and that there are also options currently on the street.
"I think we'll sign a couple of guys in the next few days to few weeks," said McCloughan. "I'm not worried about the offensive line whatsoever. There are some guys out on the street right now, not a high dollar thing, but you get a good football player."
Dilfer's Deal
A determination has yet to be made regarding the future of quarterback Trent Dilfer, who is owed a roster bonus on March 15. McCloughan said the organization would meet with veteran quarterback and make a decision prior to that date.
The 49ers re-signed Shaun Hill prior to free agency and then added O'Sullivan, bringing the current quarterback total to four. The club has also already announced they intend to execute a buy back clause on Alex Smith, also due on the 15th, that will extend his contract from four to six years.
What's the Rush?
McCloughan was asked whether or not if he feels that Justin Smith, Dontarrious Thomas, Parys Haralson, Manny Lawson, Tully Banta-Cain, etc, give the team enough of an upgrade to become a pass rush threat in 2008.
He answered, "I think our people (coaches) feel good about it. I think it's 'keep the defense off the field.' I think if you go back on our defense play for play, what we did this year and the amount they were on the field, we're going to be twice as good this year on offense from the standpoint of keeping the ball in our hands and that's going to make the defense that much better. I think we have good football players on defense, and we have enough to get the job done. Do we have superstars? No, with the exception of Patrick Willis, but we have enough guys who are good football players."