Needless to say, you're going to win a lot of football games when you force seven turnovers. But along the way in Monday night's takeaway frenzy against Arizona, the 49ers offense put together its most balanced performance of the season.
"It was a great offensive scheme Monday night," said running back Frank Gore, the NFC's reigning Offensive Player of the Week. "We mixed it up pretty good. Alex [Smith] threw the ball a lot and I ran the ball a lot. When you put up 20-something points, that's good in this league. We just have to keep working and keep getting better."
Because the 49ers have shown a variety of offensive looks this season and have been successful with various offensive schemes, the diversity will certainly challenge their next opponent, the Philadelphia Eagles. Smith said the 49ers constantly evolving offense could become a difficult study for opposing defenses.
"Absolutely, no question," he said when asked if defenses will be challenged in preparing for the 49ers. "You kind of have to prepare for it all because you don't know what is going to show up on Sunday. To have that versatility on the offensive side of the ball, to be able to give different personnel, different formations, to be able to run and throw the ball and give a lot of different looks, I think it can only make it difficult."
Of the 72 offensive snaps against the Cardinals, the 49ers attempted 36 runs. Smith attempted 35 passes, throwing two touchdowns to counteract Gore's 25-carry, 167-yard performance.
Combine that effort, with five forced fumbles and two interceptions and the 49ers have settled on a winning recipe they'll look to carry into their remaining three contests, starting Sunday in Philadelphia.
Let's look at some of the ingredients involved.
First, successful 49ers football involves Gore carrying more than 15 times a game. The 49ers are a perfect 5-0 when Gore has carried at least 16 times this season, with wins over Arizona (twice), Seattle, Chicago and Jacksonville.
Gore needs 165 yards to surpass the 1,000-yard mark for the fourth consecutive season. With three games against the league's 19th, 26th and 15th rush defenses (Philadelphia, Detroit, St. Louis), he certainly has a great opportunity to reach a yearly goal for every NFL running back.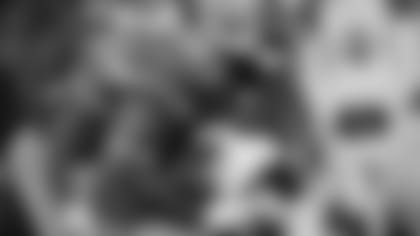 "It's been a tough road for me these last couple of weeks, but it was a great game for the team. I felt that we showed the world what type of team we have," Gore said of his big game against the Cardinals. "Now we have to continue and get ready for Philly."
It's also imperative that the offense starts strong, especially against an Eagles team which has outscored opponents 105-48 in the first quarter. The 49ers are no stranger to slow starts on the road. Almost insurmountable first-half deficits have been a common theme when the 49ers play outside the friendly confines of Candlestick Park. The club has dropped five consecutive games on the road.
"It is a big step for us, a big opportunity for us to go on the road, five-and-a-half, six hours on the plane and play a very good football team that really seems to be coming together at the right time," head coach Mike Singletary said. "They've got all the momentum and all the reasons to play and play well. For us, we're just swinging. We're just fighting. We're just scratching. We have to put our best game together in order to go out there and try to win the football game."
Along with Gore's involvement and emphasizing a good first quarter start, the offense would like to continue finding ways to get the ball into the hands of the playmakers on the perimeter.
The 49ers leading receiver, tight end Vernon Davis needs three touchdowns in the final three games to have the most single-season touchdowns by a tight end in NFL history. He also needs just 11 yards to have the best single-season yardage total by a tight end in franchise history, passing the 825 yards Eric Johnson totaled in 2004.
Davis' involvement has been a constant this season, he's caught at least three passes in every game. That's quite a change compare to last season when Davis was held without a catch on three different occasions. But he wasn't silenced by Philadelphia in '08, Davis caught six passes for 75 yards, including one for a 57-yard gain.
With Davis steadily contributing and Gore's involvement increasing, the 49ers offense seems to be rolling at the right time of the season. The unit could get another boost with the possible return of Joe Staley to the lineup at the left tackle position.
Staley has been out of action since the 49ers Week 8 loss at Indianapolis, but began practicing on a limited basis last week. His progress has improved every day since.
"If he's ready to go, Joe's going to start," Singletary said.
Staley was a full participant in Thursday's practice, and it could not have come at a better time. His replacement, tackle Barry Sims, did not practice because of knee pain.
Despite the frustration of being away from the game and missing time on the field with teammates, Staley is chomping at the bit to get back in a game. He's not concerned that he'll be rusty either.
"I don't think it's too difficult. Football is what I know. I've been doing this since I was eight."
Staley looks forward to Sunday's matchup not just because of his return to the team, but also because of the man he'll block. Staley matched up last season against Eagles defensive end Trent Cole, and is looking forward to going against the talented edge rusher once more.
"I think [Cole] is one of the best defensive ends in the NFL. It'll be a good week to come back and get my feet wet."
With Staley looking to settle back in his starting job, the 49ers have kept continuity on the other side of the ball. Other than the loss of Nate Clements to a fractured shoulder, the defense has remained largely the same personnel-wise from week-to-week.
Because of that, the group came together to have its best performance of the season against Arizona.
But it wasn't just a Monday night thing.
The unit has come up with at least four sacks in the last three weeks, giving the defense 34 on the season, the seventh most in the NFL. Outside linebacker Ahmad Brooks led the way last week, with 3.0 sacks and two forced fumbles.
"It's been awhile since I played that well," Brooks said. "It was a breakout game for me."
Brooks' coach, defensive coordinator Greg Manusky, thinks the 6-foot-3, 259-pound athlete can be a real factor in the 49ers defense.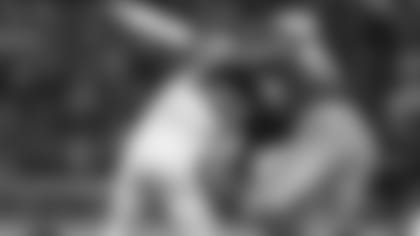 "Ahmad is a good, talented player," Manusky said. "He has a lot of physical talent, and if we can just hone those skills like we did last week and keep getting better each and every game and each and every practice, the sky is the limit for the guy."
Another player who appears to have no ceiling to his game is free safety Dashon Goldson.
Goldson led the takeaway parade, forcing three of the team's seven turnovers. Goldson picked off Kurt Warner, almost had another interception, and forced two fumbles with bone-jarring hits from his safety position.
Goldson and the rest of the 49ers defense will have their hands full with a talented Philadelphia offense which ranks third in the NFL, totaling 28.6 points per game. The Eagles feature a balanced attack led by quarterback Donovan McNabb and his big-play passing targets.
One of McNabb's favorite weapons as of late has been wide receiver DeSean Jackson. Knowing how dangerous Jackson can be with the ball in his hands, the 49ers defense will be prepared for the matchup.
"You have to be disciplined and play tight coverage," Goldson said. "With those fast guys, you can't let them get behind you. If we get that same pass rush as Monday night, we'll be alright."
One way the Eagles try to get the ball to their playmakers is via the screen game. Receivers like Jackson and Jeremy Maclin to running back LeSean McCoy all are threats in catching screen passes.
"I think with the athletes that they have across the board with the wide receivers and the running backs, it is part of their game and we have to play the call and defeat blocks and feel the screen and get to them," Manusky said.
Another big part of Philadelphia's game is relying on veteran quarterback Donovan McNabb, who remains a duel-threat at the quarterback position.
"He's the same player he's always been, big body, can move, create pockets, shaking people off and he can still run the ball," Goldson said. "He still has a strong arm. It'll be a good challenge for us this week."
The Eagles also feature another mobile signal caller in Michael Vick.
"I've never played against Michael Vick," Goldson added. "I have to check out how they use him. You know he can still throw the ball and he's definitely a run threat."
For the 49ers to minimize the efforts of Philadelphia's top playmakers, a repeat performance from the Arizona game is a must. At least, a similar performance will be needed.
"If you put yourself into a hole, whether you're home or away, it's going to be an uphill battle," cornerback Shawntae Spencer said. "It's going to be tough to be victorious at the end. We just have to come out and fight for 60 minutes. And at the end of the fight, see where the chips fall."
With a better understanding of what it takes to perform at a peak level, the 49ers will look to showcase their new-look winning formula while keeping their playoff hopes alive.