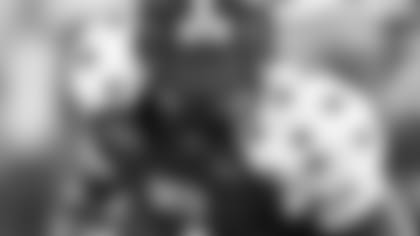 Our pre-draft series continues with a look at an underrated wide receiver prospect who produced on the nation's highest-scoring offensive attack.**
Louisiana Tech enjoyed a 9-3 record in 2012 thanks to the play-making efforts of senior wide receiver Quinton Patton.
The 6-foot, 204-pound wideout ran a 4.53, 40-yard dash at the NFL Scouting Combine, showcasing the athleticism that earned him first-team All-WAC honors.
Patton, a junior college transfer out of Coffeyville Community College, turned in a big senior season for Louisiana Tech, catching 104 passes for 1,392 receiving yards and 13 touchdowns.
The Bulldogs greatly benefitted from having a versatile wide receiver like Patton in the starting lineup.
At Louisiana Tech, Patton lined up on the outside primarily, but he did line up as a slot receiver in junior college. Because of those experiences, Patton believes he can fit any offensive system as he enters the NFL.
"I had the best of both worlds," Patton said at the combine.
The second-team All-American shined at another marquee pre-draft event, the 2013 Senior Bowl.
Patton competed hard against the nation's top seniors for an entire week and left Mobile, Ala., confident about his football future.
"I don't say surprised," Patton said when asked if he caught NFL scouts off-guard with his Senior Bowl effort. "(I) came a little bit under the radar. But that's what I like, turning people's heads."
Patton received positive feedback from his Senior Bowl performance and felt like it showcased his willingness to battle.
"I had a great week of practice at the Senior Bowl and everything," Patton said. "Love to compete. That's what they said. That I'm a great competitor and everything."
Patton's role on Louisiana Tech's offense allowed the Bulldogs to average an NCAA-best, 51.5 points per game. Patton's college coach, Sonny Dykes, has since moved on to lead the University of California's football program.
Louisiana Tech's successful season has Patton confident about his future in the NFL. If scouts believe he thrived while facing lesser talent, Patton's not trying to hear that. Instead, he wants to showcase his all-out competitive side once he gets to the league.
"I can play with the best of them," Patton said.
In one of the toughest matchups of his two-year career at Louisiana Tech, Patton posted a staggering 21-catch, 233-yard, four-touchdown performance against Texas A&M. The Bulldogs were narrowly edged by Heisman Trophy winner Johnny Manziel's Aggies team, 59-57.
"It gives me the utmost confidence," Patton said of his memorable collegiate moment. "I'm a confident person, confident in my abilities that God has given me. My confidence level is always high."
So much so, the play-making wideout didn't bit his tongue when asked to name the best wide receiver in this year's draft class.
"Quinton Patton," he said.
Why did the Louisiana Tech receiver feel that way exactly?
"I will say that I catch everything my way. I will say that I'm the best blocker. But at the end of the day I just make plays. No matter what it is I'm doing, I'm going to give 110 percent every down, every minute of the game."
The Bulldog wide receiver considers his game to be unique, too.
"I don't compare myself to anybody. I'm Quinton Patton," he said.
Patton is widely believed to be selected in the second round of the draft. The Louisiana Tech product also revealed he met with the San Francisco 49ers at the combine.
Patton has been questioned about being a product of his school's high-tempo offense and if his route-running will translate to the NFL. For now, all the Louisiana State receiver can do is focus on becoming stronger. Patton said he wants to get better at beating press coverage. It's something he'll often see in the NFL.
But until he can showcase his all-around talents, Patton will have to focus on selling himself to NFL teams as a complete player, one who is willing to do anything to help the team win.
"I just make plays," he said. "That's it. It doesn't matter if I'm blocking 60 yards downfield for a running back, going in and digging out a linebacker or safety. I have no fear on the field. Just get it done."