49ers.com's 2012 pre-draft series kicks off with a look at a talented South Carolina receiver, one who built a reputation for making tough catches in the most competitive conference in the nation.
In the case of South Carolina wide receiver Alshon Jeffery, 216 was a much ballyhooed number at the recent NFL Scouting Combine.
That was the number that appeared on the scale after the Gamecocks' all-time leading receiver was officially weighed in Indianapolis in front of the collective mass of NFL coaches and scouts in attendance.
Reports prior to the league's annual pre-draft combine mentioned Jeffery's weight possibly ballooning up to more than 240 pounds.
Jeffery, however, wasn't sweating it.
"Anyone can write anything they want on the internet," the 6-foot-3 wideout said.
It appeared as if Jeffery made a point to sweat-out some of the extra weight he carried in his junior year at South Carolina.
Normally playing at 230 pounds, Jeffery showed up to the combine at 216, which he credited largely to eating better during his draft training.
"I think that was too heavy for me," admitted Jeffrey when discussing his playing weight this past season. "When I get to the NFL, I got to make a better transition. I think 215 is going to be a lot better for me."
With weight questions appearing to simmer down, there's an even more important number circling Jeffery these days. That figure would be 4.X, with the "X" representing the other half of Jeffery's time in the 40-yard dash.
The second-team All-SEC receiver could've quieted concerns about his vertical speed by running his 40 at the combine. Instead, Jeffery elected to run at his March 28 pro day in Columbia, S.C.
If Jeffery runs a 4.5 or less that day, he could potentially jump over many highly-ranked prospects (much like he did to cornerbacks in the Southeastern Conference) and potentially find himself as a first-round pick.
If Jeffrey posts something higher than 4.6, questions about his weight and lack of burst on the perimeter could hurt his draft standing.
That's exactly why Jeffery's approaching this process with the mindset of showing his increased commitment level to NFL decision-makers.
"I feel like I have a lot to prove, and a lot to show to a lot of teams," Jeffery said.
Perhaps, the 49ers could be one of those clubs.
Jeffery's production took a hit in 2011, a season in which he entered the year as a Biletnikoff Award finalist. Not only was quarterback Stephen Garcia dismissed from the team after five games, South Carolina lost its top running back Marcus Lattimore two games later to a season-ending knee injury.
Despite the setbacks to the offense, Jeffery finished his collegiate career as the Gamecocks' school leader in receiving yards with 3,042 yards. It also stands as the second-most receiving yards in SEC history. Jeffery hauled in 183 passes for 23 touchdowns and added a school-record 12, 100-yard receiving games.
Even though the Gamecocks averaged 181 passing yards per game in 2011 and defenses stacked multiple defenders on Jeffery's side, the strong-handed receiver understood how his presence occupied much of the opposing team's defensive schemes.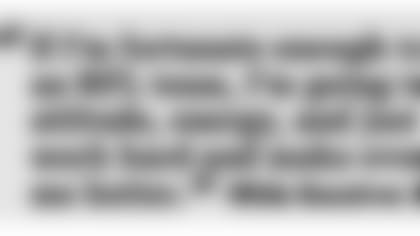 "They would put a safety over the top, so we went with the game plan we felt was going to win us the game," reasoned Jeffery, who was a part of 27 wins in college.
Perhaps, the South Carolina receiver, who finished his career as one of three players in conference history with more than 3,000 career receiving yards, saved his best outing for his final collegiate performance.
Despite being ejected from the Capital One Bowl for a sideline skirmish with Nebraska defensive back Alfonzo Dennard, Jeffery was named as the game's Most Valuable Player for his four-catch, 148-yard, one-touchdown performance in a winning effort.
In that game, just like many others, Jeffery displayed the ability that makes him one of the top receivers in this year's draft. Not only does he possess a coveted big body that teams utilize in the red zone, but Jeffery attacks the ball at its highest point with mind-numbing repetition.
In his estimation, it's what sets him apart.
"I feel like I've got the best hands," Jeffery said point-blank.
When asked about a recent remark by one of his trainers who compared Jeffrey to 49ers fourth-year wide receiver Michael Crabtree, the NFL wideout-to-be didn't mind the comparison by any means.
"That's a nice compliment," Jeffery said.
Still, the South Carolina product has a lot to prove from now until April 26, day one of the 2012 NFL Draft.
While Jeffery can point to catching a pass in every one of the final 36 games of his collegiate career, many will want to know about his one, 100-yard receiving game in 2011.
And, more importantly, they'll want to hammer down answers to the questions surrounding his weight and 40 time.
"If I'm fortunate enough to be drafted by an NFL team, I'm going to bring a great attitude, energy, and just go out and work hard and make everyone around me better."