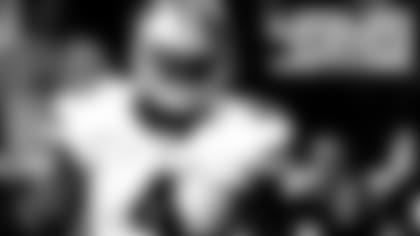 Our pre-draft series continues with a look at a standout linebacker with much to offer to NFL teams.**
Arthur Brown was the first to intercept Robert Griffin III in the 2011 season and the first to intercept Geno Smith in 2012.
Griffin III is a franchise quarterback for the Washington Redskins; Smith is likely to become a first-round draft pick in the upcoming draft.
Both quarterbacks have been some of the top talents in college football at their respective positions and the same can be said for Brown, a star linebacker for Kansas State.
The senior linebacker's contributions on a team that reached the BCS Fiesta Bowl might have been somewhat overshadowed by Heisman Trophy finalist Colin Klein, but not in the eyes of NFL scouts.
The 6-foot, 245-pound linebacker offers position versatility for teams looking for a hard-hitting defensive play-maker with speed.
Position flexibility is also on Brown's side.
He lined up as a Mike linebacker on the outside of Kansas State's 4-3 defensive scheme, but feels comfortable playing wherever he's needed in the NFL.
"I'm not as familiar with the 3-4 as I am the 4-3 because that is what we played at Kansas State," Brown said. "I'm confident in the preparation. It's new and different but I'm able to do it."
Brown, an All-American, totaled 100 tackles (seven tackles-for-loss), two interceptions and one sack last season. His production stood out to many draft prognosticators, but he still had to prove he's fully healed from a shoulder surgery that caused him to miss the Senior Bowl and most of the drills at the NFL Scouting Combine in late February.
Kansas State's dominant defender answered any concerns with a 4.6, 40-yard dash according to reports.
Speed, in fact, is a big part of Brown's relentless play.
"My goal is to be where I need to be," he said. "Pursuing to the ball is a key element to my game and any defensive game. That is something I strive to always consistently do, aggressively downhill, always making plays in open speed."
Brown has shown the ability to make plays all over the field. He's also proved he can handle adversity.
The talented linebacker left high school as one of the nation's most prized recruits. Originally, Brown chose to sign with Miami (Fla.) coming out of high school, but struggled to find a starting role in his first two seasons with the Hurricanes.
Brown didn't let the experience derail his dreams. Ultimately, he decided to move back to his home state and transfer to Kansas State.
Brown sat out for one season, due to transfer rules, but went on to dominate as a junior with 101 tackles (9.5 for loss), two sacks and one interception (the pick on RGIII).
The standout season earned him Big 12 Defensive Player of the Year honors.
Brown bounced back in a big way and continued his ascension into his senior year. Now, he's poised to be a high draft selection.
He also wants to be known as one of, if not the, best linebacker in this year's draft.
"It's a combination of standing out of the crowd and separating yourself," he said of the comparisons amongst this year's linebacker class. "I feel like I do that with every bit of my game."
Brown also feels that he's better prepared thanks to his time working under respected coach Bill Snyder.
"Coach Snyder is a guy who gets the most out of you and he has done that with me," Brown said. "Mentally and physically he prepares you for that next step."
Playing for a leader like Snyder was just one of many reasons why Brown returned to Manhattan for his senior campaign.
"Coach Snyder was a good example to learn off of and prepare me for the NFL," he said.
In Brown's estimation, the return to college football helped him "have an opportunity to elevate and improve my game."
With that maturity, Brown's able to recognize how he can get better in all facets of the game. Since Kansas State's BCS loss to Oregon, Brown has gained 18 pounds.
"I'm comfortable with this weight," he said.
With speed, experience and production on Brown's side, the all-important question to answer on the next level is toughness.
Can Brown dominate the same way he did in college? That's something all linebackers have to display in the NFL.
Brown, however, feels up for the challenge of playing with the best of the best.
"I'm tough," he said. "You have to be to play that position."