Our pre-draft series continues by profiling one of the most dominant interior defensive linemen in the country from this past season.
For the first time in Cincinnati school history, Derek Wolfe became the first Bearcat to take home Defensive Player of the Year honors in the Big East Conference.
Wolfe, a 6-foot-5, 295-pound defensive tackle, shared co-honors with Rutgers linebacker Khaseem Greene.
Wolfe garnered attention for the award after he finished 2011 with 21.5 tackles-for-loss and 9.5 sacks, figures that ranked fifth and 16th in the nation, respectively.
Considering the improvements Wolfe made as a senior, the honor was well-deserved. After all, Wolfe doesn't even like to look back at game tape from his junior season.
Back then, he saw a player on film who didn't chase down ball carriers. He saw a player nothing like the one he became in 2011.
"I'm better," Wolfe said at the 2012 NFL Scouting Combine. "I think my motor and I matured as a man, coming from a junior to a senior. Went from a strong boy to a stronger man – that's pretty much what happened."
With a better perspective on the effort needed to excel on the field, Wolfe attacked the 2011 season much like he did to opposing linemen in the Big East.
In a versatile collegiate front, Wolfe offers a lot of upside for potential NFL suitors. On first and second downs, Wolfe played as an interior lineman. On third downs, however, Wolfe slid out on the edge of the defensive line to play outside.
Either way, Wolfe feels experienced and comfortable lining up all over.
In his mind, does he consider himself as a defensive end in a 3-4 scheme or a defensive tackle in a 4-3 scheme when making the transition to NFL football?
"I play it all," Wolfe said bluntly. "I'll play whatever they want me to play. It's pretty simple."
With an attitude like that, it's no surprise teams are looking at the athletic lineman as a potential draft pick come late April.
Furthermore, Wolfe is a well-rounded athlete for a man of his size, as evidenced by his combine numbers. Not only did he run a 5.01-second, 40-yard dash at 295 pounds, but he also put up 33 reps at the bench press and leaped 33.5 inches in the vertical jump.
With such numbers already on file to go along with impressive senior tape, Wolfe elected to only participate in field drills in front of a reported 20 teams at his March 2 pro day.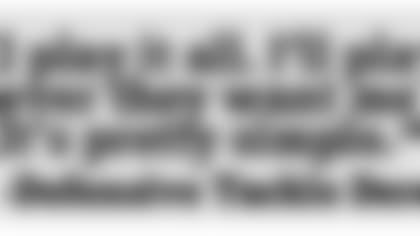 Who knows if Wolfe would have ever reached this level of interest from pro teams if not for the challenge laid out to him by Cincinnati head coach Butch Jones and his position coach Steve Stripling.
Under their guidance, Wolfe became more of a complete player on the defensive line. No longer was he taking plays off or milling around in the weight room.
Wolfe made it a point to make every workout purposeful, and, every snap.
"Coach Jones and Steve Stripling are the two guys that beat it into my head that if you want to be great, this is what you got to do," Wolfe explained.
"Instead of trying to figure out my own way to do it, I just took their advice. Everything I did in the weight room and training-wise, boxing, all the hip-mobility stuff, everything I did just kind of came together for me my senior year."
Wolfe's efforts helped the defense in many ways.
In 2011, Cincinnati finished No. 2 in the Big East's rush defense standings (allowing 95.3 yards per game) and No. 2 in the nation in sacks with 46 on the year (tops in the Big East).
On two occasions, opponents were held to negative rushing yards.
Perhaps, Wolfe has saved his best play for the later stages of the NFL Draft process.
Wolfe recorded six tackles (two-for-loss) against Vanderbilt in the AutoZone Liberty Bowl. A month later, Wolfe made three tackles in 2012 Senior Bowl, showcasing to teams his ability to play multiple positions on the defensive line.
Wolfe didn't participate in linebacker drills at the Senior Bowl, nor did he do such drills at the combine or his pro day.
Instead, Wolfe has put his best foot forward in showing his willingness to compete in the trenches.
"I feel most comfortable at three-technique (as defensive lineman) and at the 3-4 defensive end (position)," Wolfe shared. "Those are the two positions I like the most."
Either way, teams that are bringing Wolfe into town for pre-draft visits will find a player who prides himself on having a relentless motor, practically the most important aspect of his position, save for size and strength.
"That's what I would like to be seen as, as a relentless pass rusher," Wolfe reiterated.