Best of the Rest week in our 49 in 49 pre-draft series kicks off with a look at a talented cornerback trying to make the most out of his second chance.
Florence, Ala., isn't exactly Gainesville, Fla. Just ask Janoris Jenkins.
Once a major contributor to one of football's premier programs at the University of Florida, Jenkins ultimately ended up at Division II North Alabama after multiple drug-related offenses. But the 23-year-old isn't looking at his college career as a dead end; it's merely a detour to the NFL.
Or as Jenkins termed it, it was a "learning experience."
"Coming from Florida, getting three or four pairs of cleats a week, gloves, going to North Alabama and getting one pair of cleats," Jenkins said. "Playing in front of 3,500 people. Being in the Swamp and playing in front of 95,000 is a big difference."
The Swamp in Gainesville can be one of the most electric venues in all of sports. Braly Municipal Stadium? Not so much.
So for Jenkins, watching his old teammates in blue and orange uniforms on TV was something of a reminder of what could have been.
"I was just like, 'Man, I'm supposed to be there with those guys'" Jenkins said. "Just thinking about my past."
When thinking about the future, Jenkins doesn't have to look far for motivation. With four young children at home, Jenkins said he's ready to take the next step in his evolution as a family man.
"I think about my mom all the time and my kids," Jenkins said. "In order for me to be successful and them to have a great life or a nice life I've got to put it behind me. In order for my kids to get what they want, I can be a father to my kids and just be there with my mom."
As he reflects on his misdeeds, Jenkins sounds like a man who is making a change. He claims he's dropped his old habits, cut ties with some old friends and is looking forward to a fresh start in the NFL. He has also showed accountability for his actions, as he said he's been forthright with all of his potential employers in interviews during the pre-draft process.
"It made me a stronger person," Jenkins said. "Taught me how to fight through reality – that I've got to separate myself from certain guys, certain people. To be successful at the next level I can't do the things I used to do."
During his three years as a starter at Florida, Jenkins recorded eight interceptions and wore the No. 1 across his chest. It was a fitting digit, as Jenkins routinely lined up across the field from No. 1 receivers like A.J. Green and Julio Jones, who both made big impacts during their 2011 rookie seasons in the NFL.
Back in college, it was Jenkins who was shutting Green and Jones down. In his 2010 meeting with Jenkins, Green was limited to just four catches for a season-low 42 yards, while Jones could only manage a four-catch, 19-yard performance against Jenkins and the Gators that season. Not to mention Jenkins used to face other NFL talents like Louis Murphy and Percy Harvin in practice.
"There's some great guys in the NFL," Jenkins said. "It's going to be a great challenge week in and week out. I'm going to come in and work, put in some good work, watch film and just compete."
Upon reaching North Alabama, where he played for head coach Terry Bowden, Jenkins understandably didn't see many passes to his side of the field. So he used the time to work on fundamentals and details.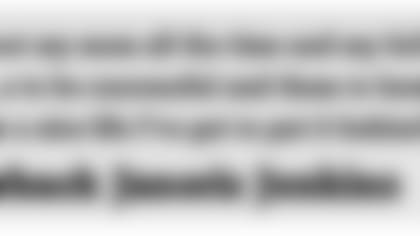 Aside from his touted cover skills, Jenkins also returned three punts for touchdowns and recorded an average of 21.7 yards on 18 punt returns.
"I got challenged, but I don't feel I got challenged enough," Jenkins said. "I got thrown at four times a game. So I really had to do everything on special teams -- punt, the gunner, kickoff return, punt return."
Since then, Jenkins has performed well at the NFL Scouting Combine and the Senior Bowl, and projects to be one of the first defensive backs off the board in the upcoming draft. Most publications have Jenkins being drafted anywhere from the first round to the third round.
The Pahokee, Fla., native measured at 5-foot-10, 193 pounds and ran a 4.46-second, 40-yard dash. At the Senior Bowl, Jenkins separated himself from other cornerbacks by showing great change of direction and ball skills.
Above all, Jenkins said he's grateful that he will be getting a chance to redeem himself.
"I've got to be grateful," Jenkins said. "For what I've been through, four years of my career, ups and downs, saying they're going to be there with me through thick and thin. I'm very grateful for a second chance."