Dig for Gold
49ers Foundation Dig for Gold Fan Feature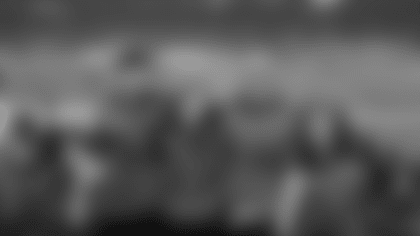 Makayla B.
Makayla B. is from Bend, Oregon and has been a 49ers fan since 1981. She has always thought that the 49ers were a world-class organization and played a brand of football that was fun to watch thanks to Eddie DeBartolo and continues under the leadership of the York family, Kyle Shanahan, and John Lynch today. The Dig for Gold memorabilia at home games has given Makayla and her family the opportunity to add authentic 49ers gear to their collection. Her favorite Dig for Gold purchases include the authentic, game worn face masks from Bosa, Deebo, Warner, and Kittle which she bought in 2021. The Dig for Gold booth and mystery bags are Makayla and her family's first stop at every home game.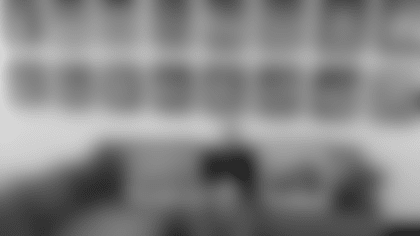 Trey C.
Trey C. is a loyal, longtime 49ers fan from a couple thousand miles away in Arkansas. Trey was born the year the 49ers dynasty began (1982) and just can't think of a time in his life when he was not a huge 49ers fan. He also has a little Golden Cavapoo, Cali, who likes to watch every single 49ers game with him and has been a good luck charm as she sits in her 49ers dog bed (on the right). Trey has a huge love of sports memorabilia and loves being able to support a great cause like the 49ers Foundation even more!
Paul M.
Paul M. has been a 49ers fan since moving to San Francisco in the late 80's. He has also been collecting game worn 49ers jerseys for over 30 years -every jersey pictured is game worn and the large banner was hung at SB XIX. Paul and his family now reside in Oahu. His son, Kai, is wearing a rare #49 Jeff Fuller mid 80's home game worn jersey and shows his love for football by playing for Punahou. Paul and his family love being part of the 49ers faithful all the way from Oahu!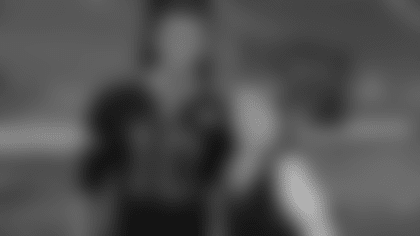 Linda T.
Linda T. has been a huge fan of the 49ers going back to the late 60's. She is also a huge supporter of the 49ers Foundation and truly appreciates and believe in the work the 49ers Foundation is doing for the Bay Area youth in the community. During her years of support, Linda has bid on many items, but her most loved one was "The Catch" with Jimmy Garoppolo where she was able to meet Jimmy G and received a signed NFL football by him.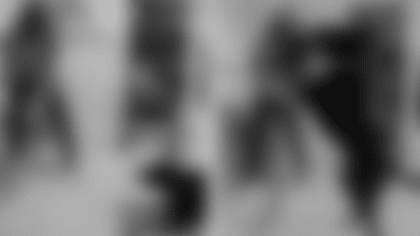 Vanessa
Following the 49ers Foundation's Dig For Gold Auction x Sale x Sweepstakes presented by TIBCO, we discovered our newest offering, the Play Catch Bundle featuring gloves, towels and a practice used football was well received not only from our loyal foundation supporters but our furry faithful as well! Meet Vanessa, and her dog Montana, having some fun with their new favorite ball! Be on the lookout for Play Catch Bundles to return this season.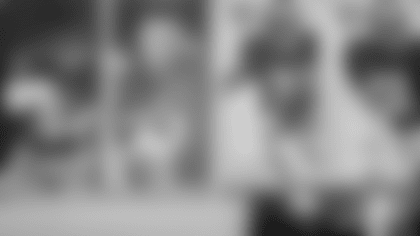 Kelvin K.
And the winner for best virtual background goes to...Kelvin K. from San Jose! Kelvin secured all four of the banners that used to hang at Levi's® Stadium via the 49ers Foundation's Dig For Gold auctions and sales throughout last season. Upon getting each banner autographed on his own, Kelvin now has a truly one of a kind display to admire and share. Thank you for your support of the 49ers Foundation and Bay Area youth, Kelvin!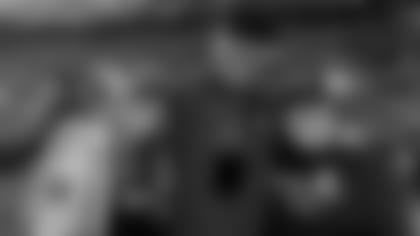 Annie S.
Annie is a 49ers super-fan who proudly shows her passion for the team by sporting her sideline worn gear and blowing up social media with dream experiences - all won through the 49ers Foundation's Dig for Gold auctions. Annie's Kyle Shanahan Super Bowl pack and Joe Staley's sideline gear pack are high on her list of favorites. The pre-game sideline experience during the 2019 Playoffs vs. Minnesota was her all-time favorite package she has won from Dig for Gold. Not only because of the win and opportunity to see 49ers greats up close, but she also got to experience it with her mom, who Annie considers the second-biggest fan behind herself. It was a memory that will last a lifetime! It's hard for Annie to imagine anything better than the 2019 experiences shared with her mom, sister, Aunt Neta and Calvin, but her excitement about what lies ahead in the Dig for Gold auctions for the 49ers 2021 campaign keeps this Faithful Fan going.
Brian N.
Meet Brian, a 49ers Foundation supporter and longtime 49ers Super-Fan! A Bay Area native from Daly City, Brian loves getting game worn items for his growing memorabilia collection from Dig for Gold, which benefits the 49ers Foundation and the communities Brian has grown up in. Brian says, "Taking part in once-in-a-lifetime experiences and owning items is priceless. One of my favorite items that I own is Kendrick Bourne's game worn jersey that I just adore. His game ethic, character, and heart will always be cherished in 49ers lore. Other cool items won in the Foundation auctions were autographed Bosa, Sherman, and Garoppolo jerseys.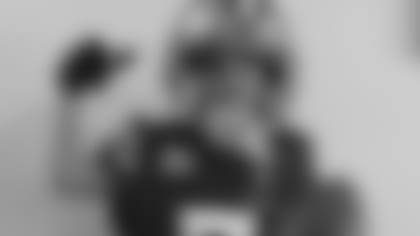 Makena D.
Makenda and her father, Jim have been consistent winners at our Gameday Auctions this past season. Through their donations to the 49ers Foundation, they have not only helped to educate and empower Bay Area youth, but they have been able to compile a full 49ers game-worn uniform!