The 49ers Foundation is excited to welcome back the fifth annual Kickoff­: Players for a Purpose presented by SAP on Sunday, August 14, 2022 at Levi's® Stadium from 3pm-7pm!
Kick off­ the season with the entire 2022 49ers roster for an evening under the stars featuring food, drinks, and fun all while giving back to Bay Area youth! This year, we are excited to announce that each table at the event will be hosted by a current 49ers player, a 49ers legend, or executive. Plus, take pictures with the Super Bowl trophies, watch your favorite current 49ers players go head to head in Faithful Feud presented by U.S. Bank, hear from team leadership about the outlook for the 2022 season on and off­ the field, and more!
All event proceeds support the 49ers Foundation's mission to educate and empower Bay Area youth through our award-winning 49ers EDU presented by Chevron and 49ers PREP presented by U.S. Bank programs and legacy nonprofit partners. Together, we can TACKLE POSSIBLE.
Join the entire 49ers Roster at Players for a Purpose presented by SAP
Kickoff the 2022 season with the 49ers and give back to Bay Area youth by purchasing your ticket to dine on the field at Levi's® Stadium on Sun August 14th

Inclusions:
Three (3) tables in VIP preferred seating section with 49ers celebrity host
Twenty-four (24) total guests with access to featured food, drinks, and reception with opportunity for meet and greets with 49ers Legends and Executives
Sponsor logo on digital and print event collateral
Verbal recognition during event program
Recognition as an In-Event Sponsor (ex. Player Introductions)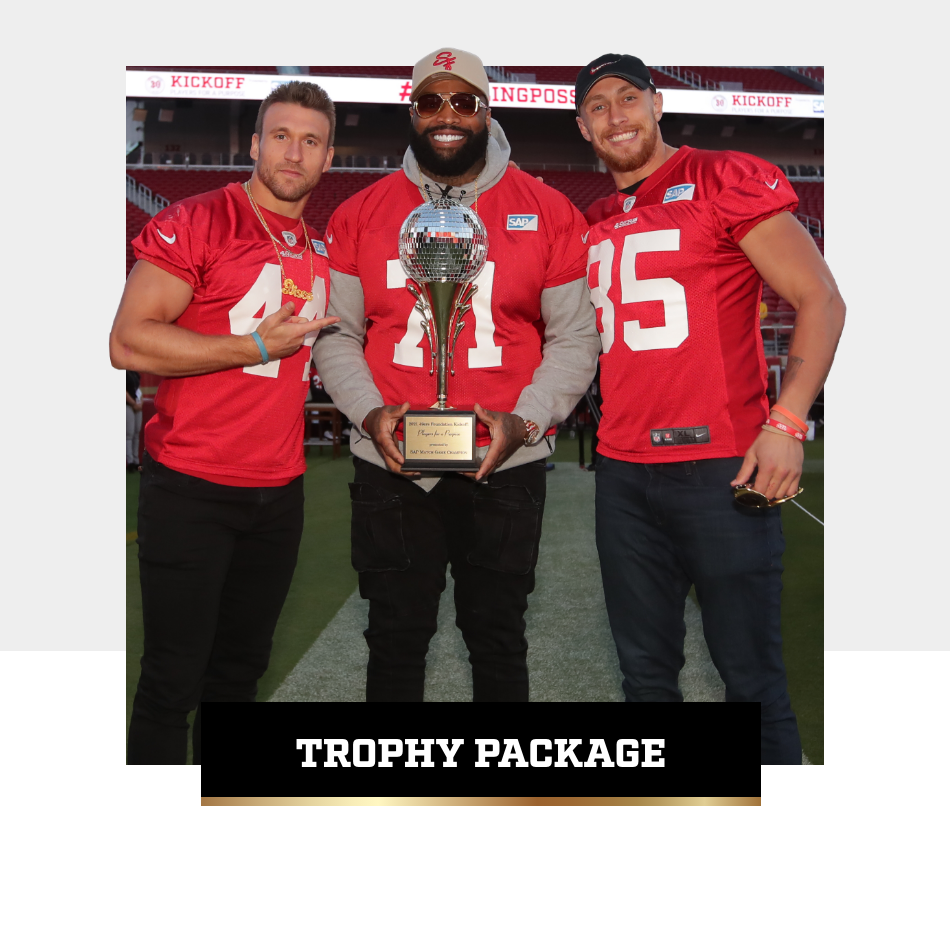 Inclusions:
Two (2) tables in preferred seating section with 49ers celebrity host
Sixteen (16) total guests with access to featured food, drinks, and reception with opportunity for meet and greets with 49ers Legends and Executives
Sponsor logo on digital and printed event collateral
Verbal recognition during event program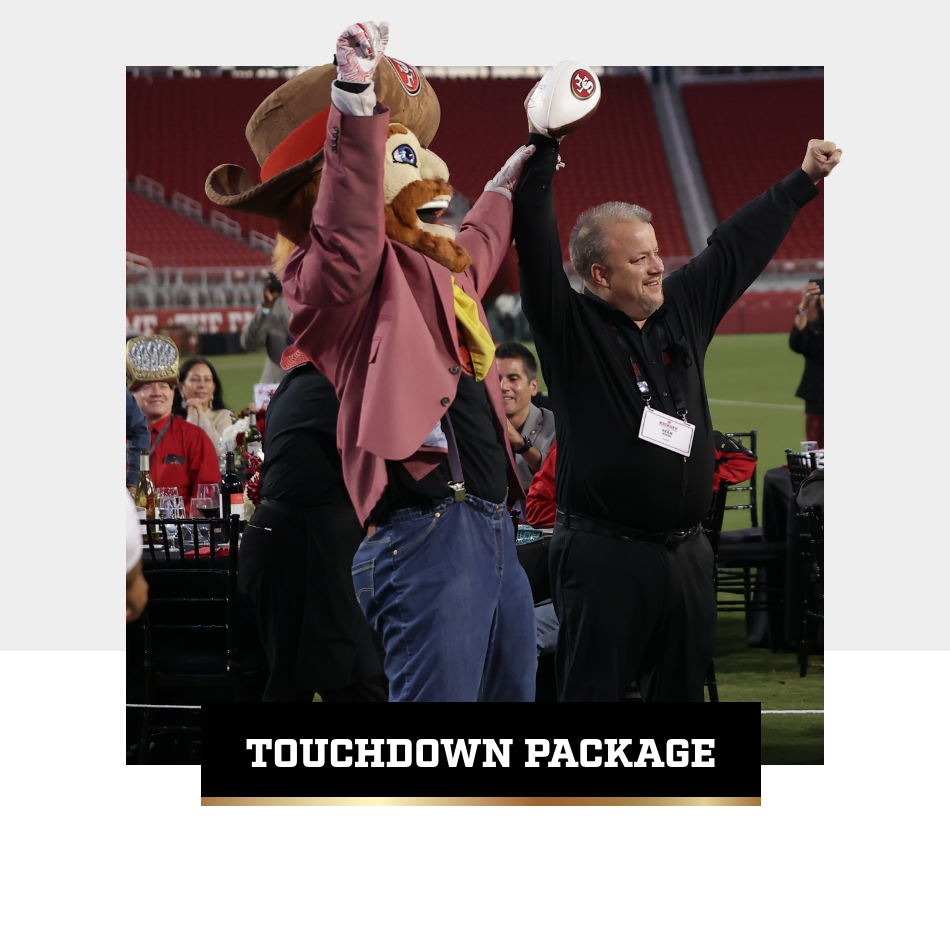 Inclusions:
One (1) table with 49ers celebrity host
Eight (8) total guests with access to featured food, drinks, and reception with opportunity for meet and greets with 49ers Legends and Executives
Sponsor logo on digital and printed event collateral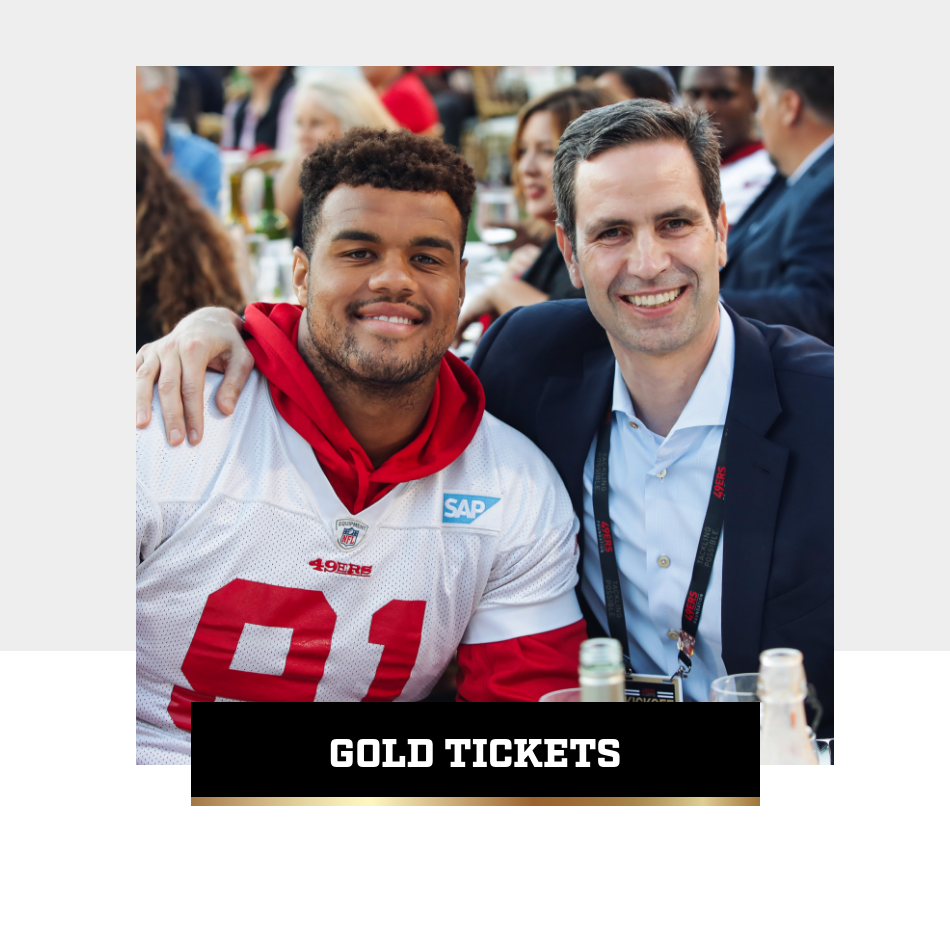 Inclusions:
One (1) seat at a table at the event with featured food, drinks,and a 49ers celebrity host
Access to reception with opportunity for meet and greets with 49ers Legends and Executives