Each week, 49ers.com gets to know two members of the 49ers Gold Rush. In this week's installment, we meet third-year member Kaitlin from Folsom, Calif. and Gilian, a rookie member from San Jose, Calif.
What's something our fans would be surprised to learn about you?
Kaitlin: I have been playing the piano since I was eight years old and still love playing to this day. Besides playing, I am infatuated with the instrument and appreciative of the discipline that it has brought to my life. I love to play classical songs, as well as New Age.
Gilian: My first car was a 1966 Ford Mustang.
Who is the most inspirational person in your life?
Kaitlin: The most inspirational people in my life are my Gold Rush sisters. Every woman on this team is well-rounded and kindhearted, breaking the stereotypes that many have about this industry. My teammates show me not only love and support, but also empowerment and drive to be my best.
If you were a tourist in San Francisco, what three things would be on the top of your must-see list?
Kaitlin: Living in San Francisco has been such a blessing. The beauty and culture in this city is truly amazing. A few of my favorite places to visit are Treasure Island for the best view of the city skyline and both the Golden Gate Bridge and Bay Bridge. The beautiful street murals in the Mission District and Union Square are classic downtown experiences!
Gilian: Alcatraz, Golden Gate Bridge and Little Italy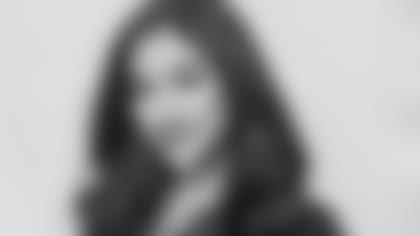 Who is your favorite 49ers player?
Gilian: Trent Taylor is my favorite member of the 49ers because a lot of my family is in law enforcement and he chose to represent his grandfather who served in the military for the "My Cause, My Cleats" campaign. I have tremendous respect and admiration for anyone protecting our country and community.
What is your favorite thing to do in the summer?
Kaitlin: My favorite summer activity is hiking. Each summer, my dad and I train to tackle Mount Whitney! Hiking is both mentally and physically challenging, but so worth it when you get to experience the nature along the way.
Gilian: I feel the most like myself when I'm near the water. I try my best to go to Santa Cruz at least once a week and listen to the ocean and watch the waves sparkle in the sun.
How would you describe your style?
Kaitlin: My style is a blend of classy and edgy. I love to wear neutral colors and timeless pieces, while still adding parts of my personality. My favorite thing to add to an outfit is a fun jacket or pair of boots.
What do you like most about being a member of the Gold Rush?
Kaitlin: My dream has always been to perform and get to do what I love professionally, but I never thought it would be on such a large scale, cheering for my favorite NFL team. The best part about being a member of the Gold Rush is having the opportunity to pursue what I'm truly passionate about next to other like-minded women who share my passions for dance. Dancing solo is nothing compared to the fire we bring when we're performing together!
Gilian: I love being able to have 39 other women as a support system. We lift each other's spirits and are each other's number one fans. There is no other place where you can gain this type of family in a matter of minutes and there is no other feeling like it!
Brag about one of your fellow teammates.
Gilian: Shasta is just as beautiful on the inside as she is on the outside. There is nothing she can't accomplish and she is the true definition of a well-rounded woman. Her positive spirit and welcoming smile lights up any room she walks in!