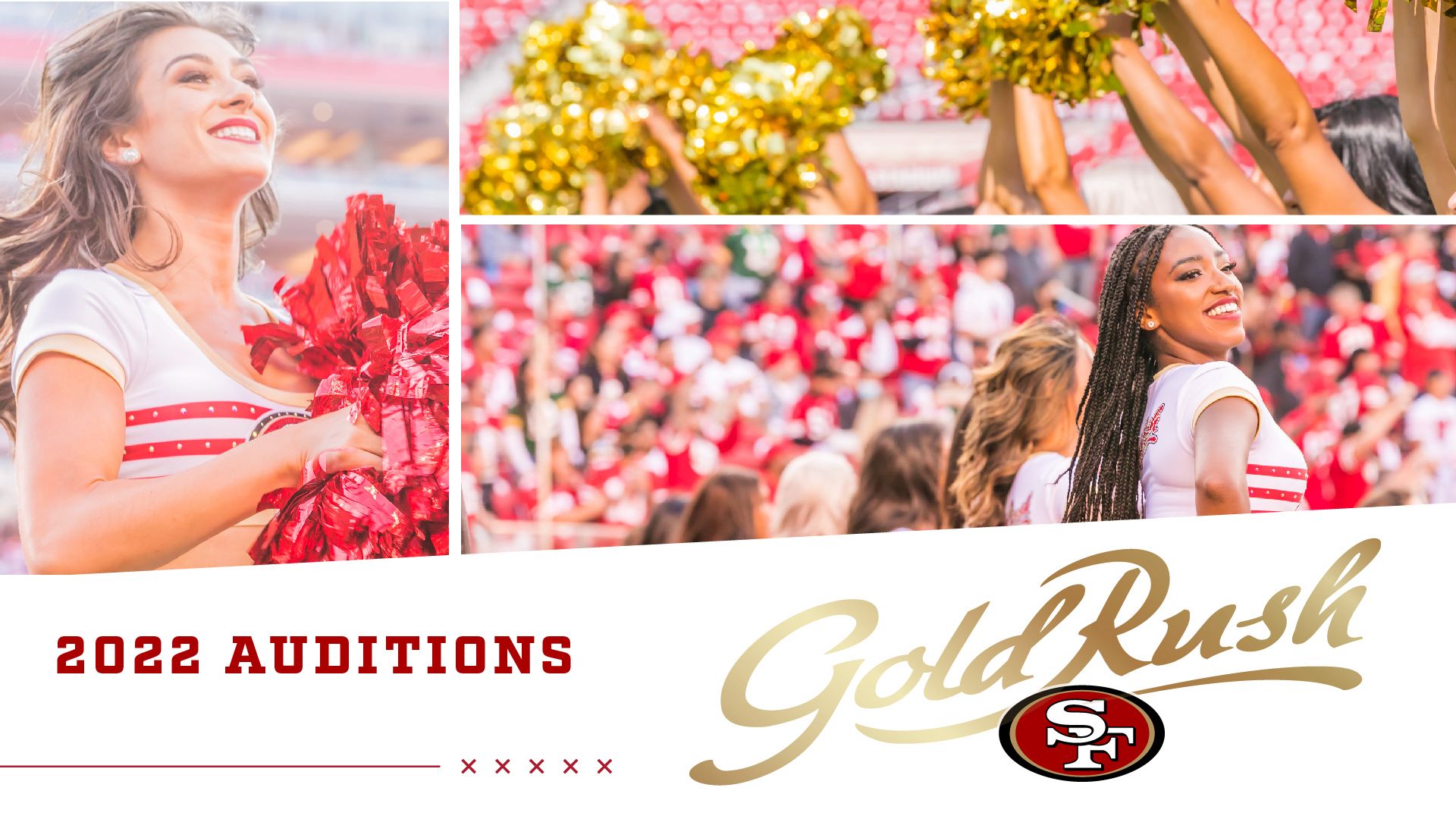 INFORMATION ON GOLD RUSH TEAM
Join the world famous San Francisco 49ers Cheerleaders and experience the opportunity of a lifetime. Over the past thirty-nine years, the 49ers Cheerleaders, known as the "Gold Rush," have established a reputation as one of the NFL's premiere performance groups. The team has been featured on many national television shows, appeared in NFL games and special events throughout Europe, Latin America, and Asia and performed in six Super Bowls. As a team member, you can participate in these types of special events, plus cheer at 49ers home games, participate in the annual photo shoot and much more.
VIRTUAL PRELIMINARY AUDITION
*The health and safety of our applicants and staff is of the utmost importance to us. To protect all involved, we will be following the current suggested precautions of health professionals and holding a virtual preliminary audition.
May 1 Applications Due
All applicants must complete an online application by Sunday May 1 at 5:00 PM PST to receive further instructions for the preliminary process. Double check that your email address is correct as we will be using it to communicate with you throughout the auditon process.
May 2 Instructions Shared / Video Submissions Open
All eligible applicants will receive an email with detailed instructions, a link to choreography, and music download. You will be asked to submit a video introducing yourself and performing the given choreography, full out, with music.
May 9 Video Submissions Due
All applicants must turn in their audition video to the designated site by Monday, May 9th at 5:00 PM PST. A diverse panel of judges made up of 49ers executives, e2k employees, alumni and industry professionals will review all submissions and select finalists based on dance ability, crowd appeal, showmanship, and applications.
May 18 Gold Rush Finalists Announced
All applicants will be contacted via email and informed whether or not they have been selected as a finalist.
FINALS WEEK
Finalis week will consist of an in person prep class, interviews and a final dance audition. Finalists will receive details about dates, times, and locations.
May 23 Prep Class
May 25 Interviews
May 26 Dance Final
REQUIREMENTS
For the 2021 Season, NFL policies required all on-field game day personnel and performers, including cheerleaders, to be fully-vaccinated (as defined by the CDC). We are currently awaiting on-field policies from the League for the 2022 season, which may have a similar requirement.
Applicants must be at least 18 years of age by May 15, 2022 (there is no maximum age limit). Team members must have flexible schedules for Saturday rehearsals starting June 11th, all 49ers home games, a uniform photo shoot, and appearances during and prior to the season. Team members must have a reliable means of transportation. Please contact Gold Rush Director, Christi Deane, christi@e2k.com if you have any questions.
WORKSHOPS
Meet the Gold Rush staff and train for auditions, by attending one of our exclusive workshops. Get details on the audition process, practice routines, and learn tips from team members.
If you have any questions, please contact the Gold Rush staff at goldrush@e2k.com or (650) 336-1100.